Hi to all those looking forward to the Asparagus Season

I started writing this newsletter about two weeks ago and have been sidetracked. In the meantime the weather has finally taken a turn for the better. This is what I wrote two weeks ago!

"We were hoping that by now we would be out in the garden enjoying the thought of all things springlike to come. Unfortunately we are seeing unprecedented levels of rainfall here in the UK. Our lawns squelch and the soil is sodden but at least we are not amongst those whose homes are flooded. We were lucky enough to have some time just before Christmas to get out and get a lot of clearing done so for now we are hiding in the house writing up and re-arranging our recipe pages and watching the snow drops valiantly heralding the wettest spring for a long long time."

Thankfully the lawn is now not quite so squelchy and the days are getting longer and brighter if not that much warmer. Spring is finally in the air!

For those of you new to our Newsletter, welcome, you will find our schedule of Newsletters by scrolling to the end of this edition.
Care of Existing Asparagus Beds
So at last we are just about able to get out into our gardens here in the UK.

As always you will need to think about where you live and how your season is different to ours. If the ground is starting to dry out and there is a little warmth developing you are about where we are in our season now.

If you have left a cover over your beds to supress the weeds its time to start thinking about lifting it depending on where you live. Its also time that the weeds are thinking of showing their heads so make sure you keep an eye on them and hand weed to keep them at bay before they try to take over.

Watch out for the slugs returning we have advice on various slug defences here. If you happen to find any toads in the garden be sure to make them comfy and look after them as they will help reduce your slug population.

Finally think about gently raking in a dressing of fertilizer (about 100g/sqm (3oz/sq yard) of Growmore or fish, blood and bone.
Then sit back and keep watch for your first asparagus shoots in a few weeks time. Do send us pictures of your first shoots and pickings so we can follow the seasons starting point where you live.
Planting Asparagus Beds this Spring
If you are thinking of planting an asparagus bed this spring hopefully you will have already done your homework and sorted out your space, how many plants and what variety. If not you have some catching up to do and I suggest you start by reading our planting asparagus page.
If you know where its all going to happen but haven't prepared your beds yet its digging time just as soon as the soil is workable. Scrolling down the link above will take you to instructions on how to prepare your bed and finally to a section on ordering your asparagus crowns.
Don't put it off for another year, get on and do it now, you know you want to!!
To Transplant or not to Transplant
I get quite a few questions about whether and when it is possible to transplant asparagus crowns. That depends on how old they are. When you plant your crowns grown by a commercial grower they are not very old but effectively you are transplanting them. Young crowns can therefore by definition be transplanted. However, a second transplanting will inevitably set them back and the older the crown the more established it is and the less likely you are to be successful without significantly reducing the cropping for one or more years. I have had reports of people who have been very successful transplanting their beds and others who have not. As you would expect the better the conditions you transplant your crowns to the better the chances of success.
One thing is for sure if you have an old established bed when you transplant the crowns they will take with them any elements of disease they might have. Planting afresh in a new location will mean that you start without that risk so is probably a better bet.
Again let us know of your success and failures and will spread the word.
Latest Recipes
We haven't so much been coming up with new recipes lately ( as its not been in season) as sorting out photos and writing up recipes from last year.

We found the photos for Salmon and Asparagus Wrapped in Filo Pastry which is a very elegant way to enjoy beautifully moist salmon and tasty asparagusand along with the photos for our Roasted Asparagus with Goats Cheese and Bacon a week or so back. I have to say the goats cheese recipe is a big winner in our house, you should try it sometime.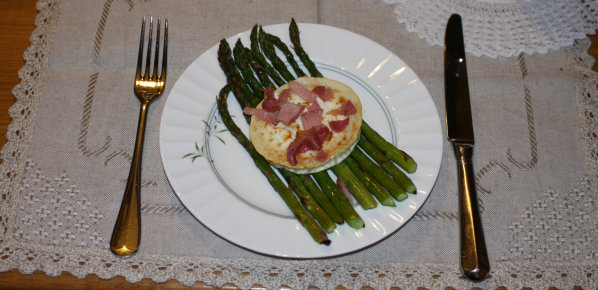 If you sign up for our news feed you will catch our latest asparagus recipes as we publish them.
2014 Festival Update
We've not seen specific dates for the British Asparagus Festival 2014 as yet but we can be pretty sure they will kick off as usual with an Asparagus Run on St George's day (24th April 2014) to mark the official start of the season in the UK. The new weekend event Asparafest that ran for the first time last year is already scheduled for Saturday and Sunday the 31st May / 1st June 2014. This year the event includes overnight camping along with Music and country style entertainment.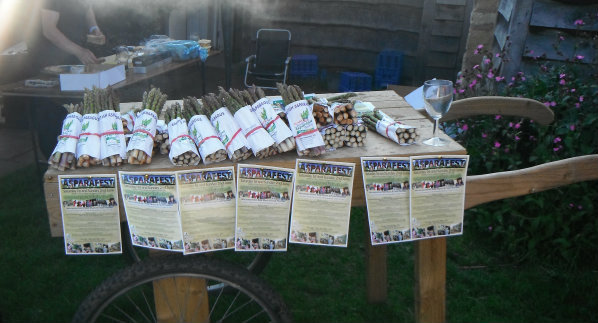 Stockton Asparagus Festival is set for the 25th to 27th April 2014 which is getting steadily closer....Hurray!!! You can see a bit of what has gone on in previous years and find a link to their website at Stockton Asparagus festival page.
The National Asparagus Festival Oceana County, Michigan is schdeuled for the 6th-8th June 2014 and although there is not much information it looks like the Empire Festival will be held don the 3rd weekend in May.
In Germany the Beelitzer Spargelfest, Germany takes place on the 30th May -1st June 2014 although we understand that any time in asparagus season you will find the German's celebrating with asparagus on the menu everywhere.
All the Asparagus Festival news will be found on our website's asparagus festivals pages .
Keep in touch with Twitter and Facebook
Don't forget you can follow us on Twitter or Facebook if you want to be kept up to date with what's going on in the world of asparagus. We'll tell you when and where asparagus is coming into season, where the festivals are and whats on, and of course we'll tell you when we put new information up on our website. Just subscribe here:
Newsletter Schedule
We aim to produce six editions of our Asparagus News a year and for 2014 our schedule is as follows:
1. The New Year Edition (see back issues)
2. This edition Early Spring - Focused on advice for those who grow or plan to grow asparagus and the upcoming season
3. Easter - Hoping that the season will have got underway we will bring new recipes, seasonal gardening advice and any news we can gather about the season ahead.
4. High Season - We'll keep the recipes rolling, look at ways to make the most of an asparagus glut and bring you all the asparagus season news as it happens.
5. Autumn and 6. Early Winter editions will focus on making sure the asparagus growers amongst you keep your beds in order to ensure the best growth in 2015 and we'll look at ways to use your stored asparagus and ideas for the holiday season ahead.
---