Stockton Asparagus Festival

The Stockton Asparagus Festival California is a big event. For our UK readers no its not Stockton-on-Tees (UK) its Stockton California.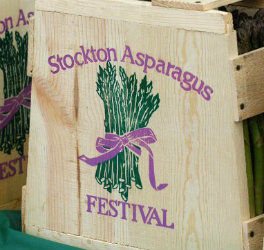 California is a big asparagus growing area with quite a wide season due to a variety of microclimates in the area. In 2011 they celebrated their 25th year so they've had a while to get the formula right. They must have got it pretty good because they attract around 100,000 to 110,000 festival-goers over the three days of their festival each year. In 2010 they donated $361,574 to non profit making organisations and have donated over $5.1m to charities over the years. Not bad!!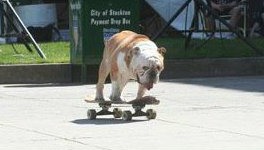 The event itself covers a wide variety of entertainment some of which has an asparagus focus whilst some is clearly just a good excuse for a day out! 5 stages host evening music groud Rock etc. another stage hosts a variety of entertainment all day long including dancing, local communicty entertainment groups etc. Then their was a circus arena, a dog show and a sea lion encounter all at the 2011 event. Surely something for everyone. A little more than you are going to get at the British Asparagus Festival! On top of these activities (under the heading entertainment) are other events (under the heading activities). These start to sound a little more like some of our British Asparagus Festival type activities albeit on a rather bigger scale!
There are the usual celebrity kitchen events and an asparagus eating competition. This event involves eating deep fried asparagus and the winner in 2010 Joey Chestnut ate 8lb 7oz of deep fried asparagus spears gaining his 5th title in 6 years and a $1500 prize! Although it looks very tasty we think eating this much could put you off eating asparagus for life!
Then there is the hole in one competition which has not yet been won. There are various rounds with a final and the opportunity to win $100,000 and a Mercedes Benz. The nearest so far has been 9" but no hole in one yet....
The Spear -It run covers 1mile, 5k or 5 miles and see around 800 entrants while Spear-Its of the valley is an area dedicated to the festival favourite of beer, wine, drinks etc. There is an asparagus recipe contest and a shopping area featuring arts, crafts, homeawre, you name it. You can even book a place on a fancy yacht charter for an hour or so during the day.
Finally there is a Canned Creation exhibition. Here companies pay to have sculptures made out of tinned produce. You can go in and watch them being built then they are left for all to see throughout the festival. Finally the cans are distributed to good causes.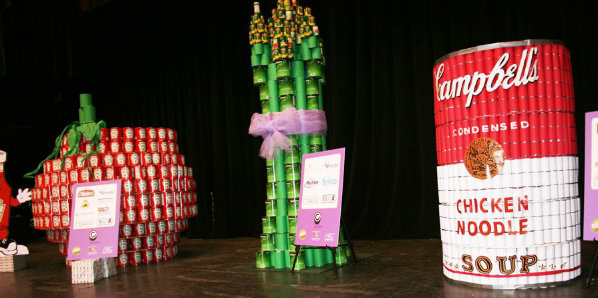 If you are going to be in California in April it sounds like the Stockton Asparagus Festival is the place to be!! Click here to go to their website To watch some home movie on Utube of someone's visit to the festival follow this link.
Fancy Trying One of Our Favourite Recipes?

or visit our main
---