Roasted Asparagus Recipes

This page is dedicated to an assortment of roasted asparagus recipes that are easy to prepare and delicious to eat. Although we have a whole page dedicated to dinner party recipes many of these recipes would be just as much at home at a dinner party as they would as a part of a family meal.
Some of the keys to good roast asparagus are in getting to know your own oven and how long/ how hot you need to set it to cook the asparagus just right. The other issue is using olive oil / extra virgin olive oil as described in the recipes rather than substituting for a general (albeit cheaper) vegetable oil will give you much the best results.
Roasted Asparagus with Bacon and Goats Cheese

This recipe is good enough for an appetizer for any dinner party or as a treat for lunch.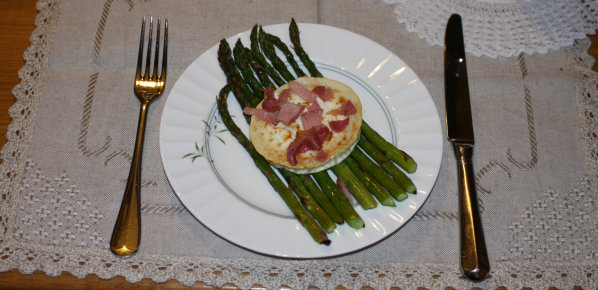 Grill the bacon instead of frying for a slightly healthier, lower fat finished product. 

Lemon juice out of a bottle will do but for best results use the real thing.


INGREDIENTS

2 pounds asparagus

Olive oil

Coarsely-ground black pepper

Sea salt

2 rashers of bacon


1 (3 1/2- to 4-ounce) roll of soft fresh goat cheese, crumbled

2 teaspoons fresh-squeezed lemon juice

1 teaspoon grated lemon peel (zest)

Directions

Pre-heat oven to 220°C (200°C for a fan oven)
Cut bacon into small pieces and fry or grill until nicely crisped
Transfer bacon to a plate or dish and use kitchen paper to absorb any excess fat
Arrange asparagus on large rimmed baking tray, drizzle with 2 tablespoons olive oil, turning to cover both all sides
Season with salt and pepper then roast asparagus in the center of the oven until just tender when pierced with knife, about 7 minutes
Pre-warm a serving plate (if serving hot)
Remove from heat and arrange asparagus in single layer on the serving plate
Sprinkle with goat cheese, lemon rind and cooked bacon. Drizzle with lemon juice and 2 teaspoons olive oil.
Serves 6 - serve hot or cold

Another alternative as shown in the pciture is to grill the asparagus and whilst grilling on the second side put the goats cheese on top of the arparagus and grill lightly. Very yummy!


Cooking Time:  7 mins  
Prep Time:      10 mins
Serves:              6

Where to Buy Asparagus and what to look for


Asparagus Season


Basic Preparation of Asparagus


Equipment for Cooking Asparagus

---
Roast Mixed Vegetable Side Dish

This is a really easy side dish good enough for any meal.
INGREDIENTS

1/2 lb asparagus

1 red pepper

1 yellow or orange pepper

2 beetroot

1 butternut squash or 2 courgettes

Olive Oil

Selection of herbs (ideally fresh finely chopped)

Cooking Time:  7 mins  
Prep Time:      10 mins
Serves:              6

This dish as with most dishes will be much better if you can use fresh herbs, either straight out of the garden or off the window sill.


Experiment with different mixtures of vegetables according to what is available.

Directions
Chop the asparagus into 2 inch lengths
Chop the peppers into chunks about 1" square
Cut the beetroot and squash or courgettes into 1- 1 1/2" cubes (or other shapes)
Put all the vegetables in a shallow oven proof dish and toss in a little olive oil and the mixed herbs
Roast in the oven at 280C for 25 - 30 minutes
Keep an eye on them from about 20 mins. When nicely golden serve as a side dish.
We hope you like these recipes for roasted asparagus. You may be interested in these recipes as well:
Smoked Scottish Mackerel and Asparagus Bake
See the full Roast & Grilled Recipe Collection here

Fancy Trying One of Our Favourite Recipes?

or visit our main
---