Asparagus Season is Here!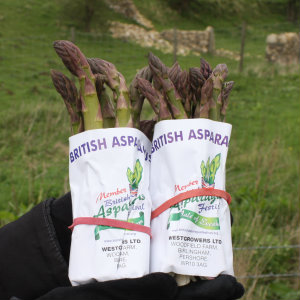 Sometimes it seem to take a while coming but the season is definitely here in the UK now. Every year we are delighted by our first taste of local asparagus and this year was no exception. We are now looking forward to the next month as we make the most of asparagus cooked in a myriad of ways.

Here we'll be exploring asparagus festivals, updating you on who is offering mail order asparagus, checking out what we should be worrying about in the garden, highlighting some of our favourite recipes and looking at how to store excess crops.

In the meantime here's wishing everyone some great asparagus growing and enjoying weather.
Festivals
We started off the season with a trip to Broadway Tower where the British Asparagus Festival was kicking of the season with a bit of Asparamadness.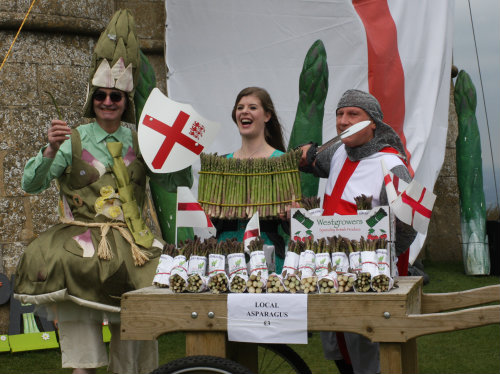 It wasn't the warmest or sunniest of days but there were plenty of smiles all-round anyway.

We can't quite believe that the Stockton Asparagus Festival has already been and gone raising more money for charity. Still to look forward to are the Empire Festival, National Asparagus Festival in Michigan 6th -8th June and the Beelitzer SpargelFest Festival in Germany. You will find links to all these festivals here.

See if you can't take one in if you live locally.
Mail Order
If you don't live in Asparagus Country and want to know you are getting the freshest produce you might like to try some mail order asparagus direct from the farm. Alternatively this might make a wonderful surprise gift for someone who lives too far away to drop in on with a gift.

You could try:

Mister Spear in the USA or Withycombe Asparagus in the UK
Looking after the Asparagus Bed
Hopefully by now you have asparagus coming up for cutting. If you live somewhere a little cooler I guess you may still be being patient but it really can't be long now.

Don't get carried away if your bed is only in its first year or so. Read our advice to be sure not to overcut this year and weaken your bed for the future.

Keep a good lookout for slugs and snails and do your best not to let them eat your new grown tips.

Keep track of your cutting and note when to start letting the spears grow out. And all the time keep the weeds in check and look out for asparagus beetle.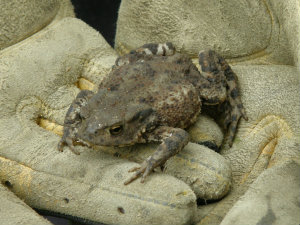 Be kind to toads they eat slugs and snails!
Recipes
Before diving into fancy recipes you really must savour the first of the seasons asparagus plainly steamed with butter. Its hard to beat. We are big advocates of our fish steamer that steams the asparagus in the microwave. Its easy, low hassle and had great results. Give it a try.

Once you've done the steamed asparagus with butter a few times its time to add variety with some alternative recipes. There are many many recipes that work well with fresh in season asparagus but here are a few of our favourites: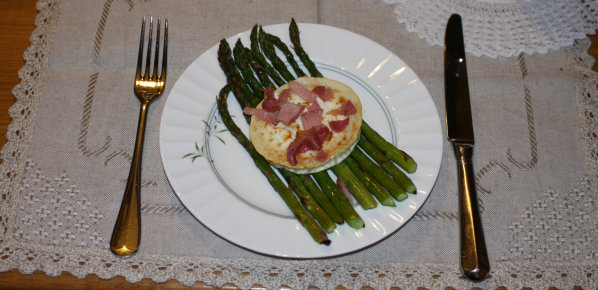 Roasted Asparagus with Bacon and Goats Cheese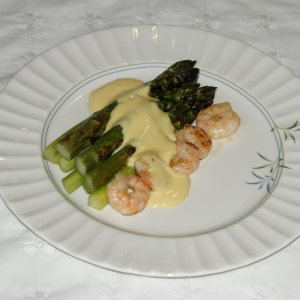 Asparagus with Hollandaise Sauce
Storing Excess Crops
If you have a good year you may find yourself with more asparagus than you can eat. In this situation you could be a lovely neighbour or family member and give some away and / or you can store some for use later in the year.

There are a variety of options which we have set out with full instructions freezing, canning drying,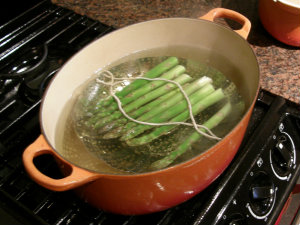 Blanching Asparagus in preparation for Freezing
The question is what will you do with the stored asparagus? Be realistic it will never taste like it does in season so the best bets are to find ways to use it where the flavour comes out in full but the texture which may have been compromised is less important. Some examples of recipes that work well with stored asparagus are soup recipe (any type of stored asparagus) Chicken and asparagus pie (works well with frozen asparagus placed straight in the pie) Asparagus Roll Ups (again works well with frozen spears)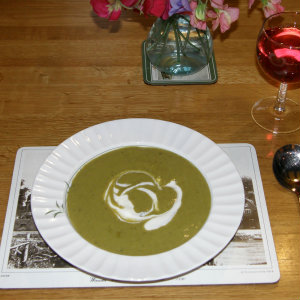 Over the winter we will try to inspire you with a range of ideas for using your stored asparagus. Here's to a good crop!
Keep in touch with Twitter and Facebook
Don't forget you can follow us on Twitter or Facebook if you want to be kept up to date with what's going on in the world of asparagus. We'll tell you when and where asparagus is coming into season, where the festivals are and whats on, and of course we'll tell you when we put new information up on our website. Just subscribe here:
Newsletter Schedule
We aim to produce six editions of our Asparagus News a year and for 2014 our schedule is as follows:
1. The New Year Edition (see back issues)
2. Early Spring (see back issues)
3. Easter (see back issues)
4. This issue - High Season
5. Autumn and 6. Early Winter editions will focus on making sure the asparagus growers amongst you keep your beds in order to ensure the best growth in 2015 and we'll look at ways to use your stored asparagus and ideas for the holiday season ahead.
---