Dinner Party Recipes - using Asparagus

You won't have to look far to find dinner party recipes that involve our favourite Asparagus. Just about every asparagus recipe is good enough for a dinner party but some lend themselves to the occasion better than others.
Here is a collection of those that seem particularly appropriate:
Roast Asparagus with Smoked Salmon

So easy to make and so tasty to eat this one has to be a winner: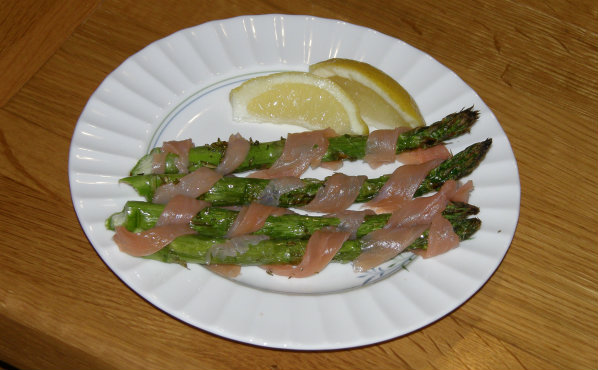 You just can't beat smoked salmon and asparagus as a combination . This is one of our all time favourite recipes not just our favourite dinner party recipe.

Follow the recipe but don't worry so much about the presentation for a light lunch  or evening in without company!


INGREDIENTS

About 30 spears of asparagus

Olive Oil

A handful of fresh rosemary leaves (or dried if no fresh available)

Salt & freshly ground black pepper

6 to 8 ounces thinly sliced smoked salmon (1 slice per person)

Directions

Preheat the oven to 200 degrees C (180 degrees C for a fan oven).
Lay the asparagus on a foil-lined baking sheet.
Drizzle with olive oil rolling to lightly cover all sides.
Chop the rosemary very finely
Sprinkle with rosemary, salt, and pepper.
Roast until cooked and starting to brown around the edges (about 10 minutes).
Remove from the oven and transfer to a plate to cool.
Once the asparagus have cooled, cut long thin slices of smoked salmon and wrap each spear in the salmon as prettily as you can.
Arrange on a serving dish and serve at room temperature.
This doesn't really need anything with it but you might add lemon wedges.

Cooking Time:  10 mins  
Prep Time:      5 mins
Serves:              6

Where to Buy Asparagus and what to look for


Asparagus Season


Basic Preparation of Asparagus


Equipment for Cooking Asparagus

---
Asparagus Rolls

Transferred onto plates these golden cooked rolls really look and taste the business.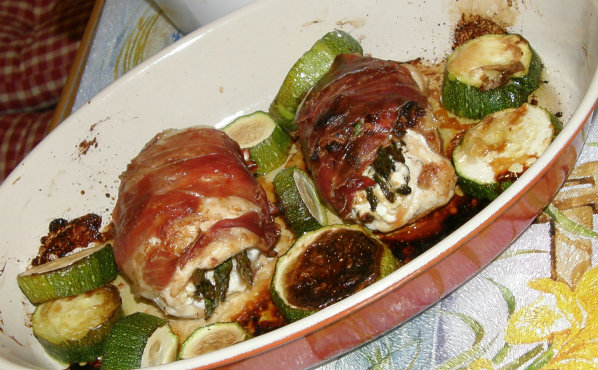 We suggest serving with lightly cooked seasonal vegetables and new potatoes.

We popped some courgettes around the rolls to roast in the juices which worked a treat.

INGREDIENTS

12 Asparagus spears

1 tub philadelphia cream cheese - full fat

4 chicken breasts

8 Parma Ham Slices

1 Red or Green Pepper deseeded and finely sliced

pinch salt and freshly ground black pepper

Directions

Cut the chicken breasts so that open out as flat as possible, beat if necessary to make them flatter.
Mix the chopped pepper with the salt, ground pepper and cream cheese
Butter one side of the chicken with the cream cheese mix
Roll the chicken up with spears of asparagus inside the roll. (cut the asparagus to a length that just leaves their heads and tails sticking out at the end of the roll but wrap up the end without a tip as well it will taste just as good).
Finally wrap the whole roll in parma ham.
When all the rolls are done put them on a baking tray and drizzle a little oil all over them. Store in the fridge until your guests arrive.
Pop in the in the oven 30-40 minutes before you are ready to eat; so probably after you have served your guests a first pre dinner drink put them in the oven.

Cooking Time:  40 mins  
Prep Time:      15 mins
Serves:              4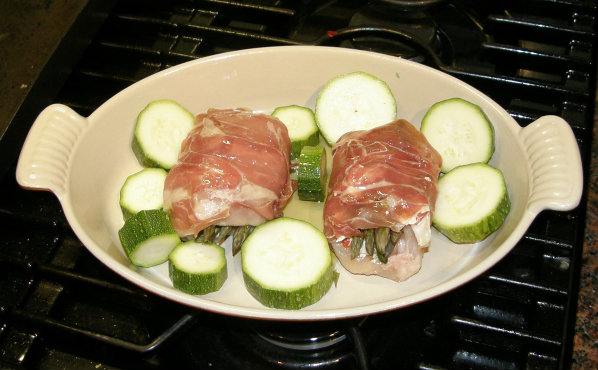 There are plenty of other asparagus dishes suitable for a dinner party on our other recipe pages but I have picked a few out below to whet your appetite:
Any of the soups on the Asparagus Soup page
Salmon and Asparagus Filo parcels
Grilled Asparagus with Stilton
Roasted Asparagus with Bacon and Goats Cheese
More dinner party recipes coming soon.....
Fancy Trying One of Our Favourite Recipes?

or visit our main
---