Harvesting Asparagus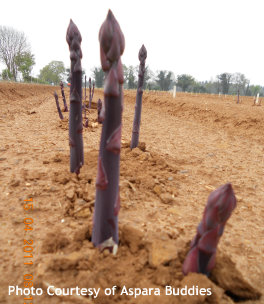 This is what you have been waiting for harvesting asparagus time!
Hang on, Slow down, are you sure? is it time yet? The last thing you want to do after spending all that time making sure you know how to grow asparagus is to start harvesting asparagus at the wrong time, cut too many asparagus spears and weaken you asparagus bed for years to come. So lets think about how to harvest asparagus. Advice varies but there is a common theme. You must not harvest too much too soon or you will weaken your plants.
Year 0 - seed planting (if you started this way) - obviously no cutting
Year 1 - transplanting crowns / planting crowns - once planted just leave the plants to grow (no cutting to eat)
Year 2 - 1st cutting maybe? Advice varies from no cutting at all this year to cutting just one stem per plant to possibly cutting for two weeks. Please be patient and let them grow. Maybe try talking to them, you never know it might help!!!
Year 3 - 1st real year of cutting. Some suggest that you can now cut for a full season others suggest cutting for just 3 - 5 weeks.
Year 4 and onwards - by now if you have been patient you should be able to work up to cutting for an 8 week season.
In no year should you be considering asparagus harvesting for more than 8 weeks from the first cutting or you will weaken your crop for the following year.
Whichever year you are in you need to cut your asparagus when it reaches about 4-6inches (10-15cm)in length.
How Big Should the Spears be When I Cut them?

You need to cut the spears before the tips start to open up to form asparagus ferns. When the tips open up a substance called Lignin is produced which makes the bottom part of the stalk tougher. This is the plants way of preparing the stalks to bear the weight of the ferns. You want to cut the spears before they reach this stage.
You will get to learn how tall your spears get before they start to open up but often when its warm it will be a case of chekcing and cutting asparagus spears every day. A typical height might be 6-9 inches.

Harvesting Asparagus - here's how

Using a sharp knife with a serrated edge (you can buy special asparagus knives) cut the asparagus cleanly 2- 10cm (1"-4") below the ground. Take care not to cut the crown of the plant burried beneath the spear. Some would advise not cuttingbelow groudn but at groudn level to avoid admaging the crown.

From early May you will need to harvest aparagus every other day and then as it gets warmer every day. A spear can grow 15cm or 6" in a day when the weather is right!
Get your freshly cut asparagus into the cool as soon as possible. It will stay fresher and keep better the sooner you get it into the refridgerator. Once in the fridge it will keep well but as expected the sooner you eat it the better.

Of course you can keep it in the fridge, give some to your friends or freeze it.
If you want some ideas on how to cook asparagus or ideas for asparagus recipes follow these links and enjoy!
Questions About Harvesting Asparagus

If you still have questions about how to harvest asparagus take a look at our page of frequently asked questions to see if you can find the answer there. If not please feel free to ask us or our expert and we will see if we can help.

Fancy Trying One of Our Favourite Recipes?

or visit our main
---