Asparagus Plants , Asparagus Crowns and Asparagus Seeds

The terms asparagus plants and asparagus crowns are used interchangeably. What you need to decide is which variety to buy, whether to buy pot grown or bare rooted, where to buy them from and what time of year to buy and plant them. Or even are you going to grow your plants from seed?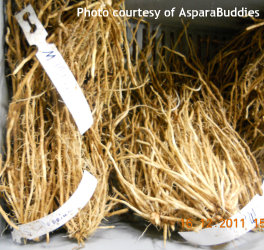 There seems to be a lot more choice of asparagus plants or crowns than asparagus seed available but that is not to say that you won't find seeds. You might have to look a bit harder to find exactly the variety of plant you want.
Growing from seed is inevitably going to need a bit more patience as most asparagus plants are 1 or 2 years old so you have 1 or two more years to wait before you can start harvesting asparagus spears to eat. However, the bonus is in the cost. I have seen seed being sold from 10 seeds for £2.99 to 500 seeds for around the £2 to £3 mark. So shop around for good value and if you go the seed route and you want to establish a large bed it may well be worth the wait.
Do you want male or female asparagus plants in your garden?Well this has nothing to do with which ones are going to talk the most, argue the most, fight or have more mood swings but it does have to do with yield. The females produce berries and producing those berries uses up some of their energy. As a result you are likely to get better crops with the male plants. Some varieties produce male only seeds whilst others produce both. If you grow from seed you can weed out the females when you first see them produce berries.

Varieties of Asparagus Plant

Now to variety. Well there are quite a few to chose from and I have searched as many sources as possible to bring you as much information on all the varieties of asparagus plant as I can, if there is anything I haven't covered please let me know so i can pass the information on through this page: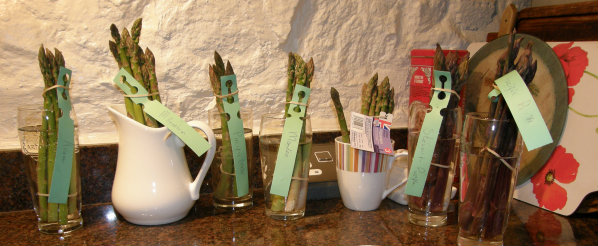 Connovers Colossal – they sound like big juicy spears! This variety is bright green with purple tips, produces a good yield for a non hybrid. It dates back to the 1800's. It is a well tried and tested popular older variety with an Award of Garden Merit from the Royal Horticultural Society. Typical cost 10 crowns for £15.
Martha Washington – this strong growing variety is an American favourite. The long thick spears are emerald green and it has an extra long harvesting season. One supplier claims it is good for freezing, we will have to test this out....can anyone confirm this? It is resistant to rust and is an open pollinated variety. Typical costs seeds £3 for 50 seeds.
Gijnlim F1 hybrid – is a Dutch variety recommended by some Kent asparagus growers. It is adaptable liking either clay or sandy soils. It has a heavy crop early to mid season and has an Award of Garden Merit from the Royal Horticultural Society.
Backlim F1 hybrid – is another Dutch variety not quite as highly recommended as the Gijnlim. Again with an RHS Award of Garden Merit this variety has a high restistance to rust. It produces a good crop mid to late season and the spears are thick with well closed tips.
Ariane - produces lots of large spears early in the season
Stewarts Purple – this asparagus variety is more tender and sweet than the green variety's and is good eaten raw in salads, sipped into dressing etc. Its colour is lost if cooked so if you are going to cook it steaming is best.
Pacific Purple F1 - This variety is from New Zealand. As its name suggests it produces purple spears which are sweet and tender and very good eaten raw. Typical cost £15 for 10 crowns.
Pacific 2000 - Unusually there are two varieties of pacific 2000 one for spring and one for autumn planting. Make sure you get the right one! Again from New Zealand this variety was voted the best in commercial grower tests in 2006. It grows vigorously and the spears are uniform, green, tender, not stringy with a heavy crop and great flavour. typical cost 10 crowns £15.
Purple Passion - The spears are good and thick, not quite as thick as Jersey Giant. The spears are very very tender and are purple when harvested. They lose some of their colour when cooked and are often eaten raw. The flavour is mild and nutty and the sugar content is 20% higher than many others.
Mondeo - A variety with good disease resistance, great yields, great flavour and cropping early in the season. Typical cost 10 crowns for £17.
Jersey Knight F1 hybrid – one source tells us that this all male hybrid has flavoursome tender spears up to 2cm thick and a high tolerance to Fusarium - crown and root rot. Another tells us the spears are thinner than those of Jersey King which has medium diameter spears. This seems a little contradictory! It will grow in poor salty or alkaline soil. The crop comes slightly later than Jersey Giant so you can extend your season by planting both. It is hardy even in sub zero weather and will crop for up to 20 years. 5 1 year old plants might set you back £17.50.
Jersey Giant F1 hybrid - this variety is a good choice for cold climates although it is perfectly happy in other climates too. It has thicker spears than either Jersey King or Jersey Knight although not quite so many as Jersey King. It has a strong flavour and is resistant to fusarium - crown rot and rust.
Jersey King F1 hybrid - another hybrid with medium diameter stalks which are best harvested when they are about 7 inches tall. Adaptable to most climates this variety is easy to grow in humus composted soil.
Eros F1 hybrid - The large purple green speasrs originate from Italy. They grow well in sandy soils as well as in heavier clay soils.
Guelph Millenium F1 hybrid - If you live in the north of England this may be the variety for you. It comes from Canada and has excellent tolerance to cold winters. It is good in poorer soils and is an all male variety.
Thielim F1 hybrid - Early to crop and with a good yield this hybrid is a recent introduction that is less susceptible to Botrytis.
You might want to look out for combination offers where you buy typically 5 crowns of each of four varieties of asparagus plant to give a good spread of complementary varieties.
Here are our Growing Asparagus Pages, What else do you need to know?

| | | | | |
| --- | --- | --- | --- | --- |
| Varieties of Asparagus | | | | |
---
---