Growing Asparagus - Everything you need to know

My first experience of growing asparagus was as a child when the caretaker at the school just behind our house had a big bed of Asparagus. Each year we would consider it a real treat when we were given a bunch (or maybe more) of his prized crop. I'm not sure if I can really remember it properly or whether it's just my parent's stories that I put memories to but I definitely remember enjoying eating the produce.This was long before imported asparagus made it into the supermarkets.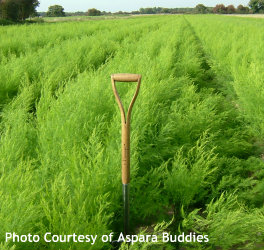 Now we live in the heart of asparagus growing country so have no excuse for not passing on the secrets to success. Eating your own home grown vegetables is always so much more satisfying than buying them from the shops so you will eagerly await those first asparagus tips peeking above the ground. When asparagus season finally comes around in April – June each year you will be so glad you put the time and effort into growing asparagus yourself.

On the pages that follow you will find information on:
| | | | | |
| --- | --- | --- | --- | --- |
| Varieties of Asparagus | | | | |
Pretty much everything you need to know is contained in these pages.

In the meantime if you want to receive our monthly newsletter please register in the box below. If you are growing or thinking of growing asparagus our newsletter will give you some timely reminders of when to do what throughout the season.
Some Terminology

Just to get you started here are a few bits of asparagus terminology:
Asparagus crowns – are these the same as asparagus plants, yes so far as I can tell the terms get used interchangeably
Asparagus fern – this is the big wispy rather frothy leaves that are formed when the asparagus tips are left to grow on and mature.

Asparagus Beetle – pretty much what its name implies an insect that you won't want to find near your asparagus crop.
Asparagus tips – The stalk that grows from the ground and is cut for us to eat.
Asparagus bed – this is the place where your asparagus crop grows, because the plants have to mature over a number of years it will be the place they stay for a long time.
Asparagus roots – are these the same as asparagus crowns? yes they certainly are!
Asparagus Seeds – although you mostly hear about asparagus crowns and plants you can grow asparagus from seed as well. In fact this is how the growers grow the crowns most people buy to plant!
---
Fancy Trying One of Our Favourite Recipes?

or visit our main
---
---