Asparagus Appetizer Recipes

Asparagus appetizer recipes make me hungry just reading them. Asparagus makes such a tasty start to a meal.
Here we collect a range of possibilities, we hope you find something to your taste:
Asparagus Salad

This salad is lovely for a light lunch and is best enjoyed with really fresh spears. Try the purple variety for a change.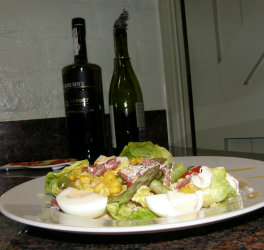 This recipe is really easy and you can add your own ideas with different salad vegetables to suit your tastes.

Cooking Time: 8 mins  
Prep Time:      10 mins
Serves:              4
INGREDIENTS
A fresh lettuce - chose your favourite or a range of fresh salad leaves(straight from the garden will always taste best)
16 - 20 thin asparagus spears as fresh as possible - a variety that eats well raw
small block of parmesan cheese to grate
2-8 tomatoes depending on their type (more small ones or fewer big ones) small tasty vine tomatoes will taste best
6 slices of salami
3 hard boiled eggs (peeled and sliced)
small tin of sweetcorn
A nice light mayonaise
Directions
Wash and chop the salad and place on plates


Wash the asparagus, snap off the ends and cut into inch long pieces sprinkle on the salad


Place chopped tomatoes, sweetcorn and hard boiled egss on plate ( be a bit decorative!)


Chop the salami into small pieces and sprinkle on top


Grate parmesan over the whole lot
Finally add a little of your favourite mayonaise and ENJOY....,
Note : I would not recommend pre-grated parmesan cheese, and if you've tried it and think you don't like parmesan cheese - try the real thing and think again! The blocks seem expensive when you buy them but the last block I bought for about £5 has lasted from Valentines Day to mid June and is still going strong. The flavour is amazing.

---
Asparagus and Red Pepper Parcels
These rolls can be made in advance and brought out of the freezer to cook for a party. You can use asparagus appetizer recipes like this at garden parties, at christmas, family gatherings, you name it....
This dish as with most dishes will be much better if you can use fresh herbs, either straight out of the garden or off the window sill.


Cooking Time:  10 mins  
Prep Time:       10 mins
Serves:              4
INGREDIENTS
8 oz cream cheese
Fresh chives - chopped roughly (if available)
1 lemon, zested
8 rashers smoked bacon
20 slices thin sliced brown bread
20 stalks of asparagus, ends snapped off
2 Sweet Red Peppers
8oz butter, melted
Directions
Snap the ends off the asparagus.


Cut the red pepper lengthways into long thin slices.


Grill the bacon until crispy, absorb any fat with kitchen roll, allow to cool and then chop finely or crumble.


Place cream cheese, chives, lemon zest and bacon in a bowl and mix together.


Cut the crusts off the bread.


Spread the bread with the cheese mixture.


Place a stalk of asparagus and a slice of red pepper on each slice of bread and roll up.


Use a cocktail stick to keep them rolled up if needed.


Brush the top with melted butter and sprinkle with parmesan cheese.


Freeze the rolls.


Partially defrost then cut each roll into 3 equal pieces.


Bake at 190 degrees C (375 F) for 15 minutes or until lightly golden.


Eat whilst still warm....
Try this with white or brown bread, or try it with a few crumbs of stilton in each parcel...
Watch out for more asparagus appetizer recipes coming soon.....
If you are looking for other appetizer recipes (not just based on asparagus) the following sites may be of interest:
Favorite Appetizer Recipes
Appetizer Recipes including bite size recipes, salads / antipasta and more.
Other Asparagus Recipes that would make good Appetizers
Any of the soups on the Asparagus Soup Page
White Asparagus with Caper Salad
Roast Asparagus with Smoked Salmon
Grilled Asparagus with Stilton
---
Fancy Trying One of Our Favourite Recipes?

or visit our main
---
---