Asparagus Seeds
- Growing Asparagus from seed pros and cons, variety, where to buy, costs
Is growing from asparagus seeds more hassle than its worth?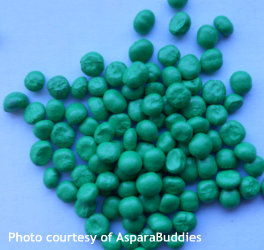 The answer probably depends on what is important to you. If you have lots of patience and know that you are going to be living where this bed is being planted for many many years then the answer may be yes. The plants grown from asparagus seeds and transplanted will not have endured the stress of being packaged and out of the ground for a period of time so may be better in the long term and have a lower failure rate when tranplanting. Equally if you are on a budget asparagus seeds are certainly cheaper than asparagus plants.
However, you will have to wait an extra year for your first crop, do you really want to wait that long?
Shop around for your seed and buy because you like the variety and the quality not the price. The price of seeds is small compared to the love and patience you are going to put into these plants. You could start by looking at Nicky's Nursery as they seem to have a number of varieties available. Please note this nursery is not able to export to the USA due to import restrictions. Or in the USA you might try Seedman.com.
Got your Seeds? How to Get them Growing....

If you decide to grow from asparagus seed this is what you need to do:
Some people might start the seed in pots indoors but this is not necessary, you can sow them outdoors in an area of the bed they are to end up in. Prepare the seed bed following the instructions for planting asparagus crowns. Don't dig the trenches just get the bed nice and flat and rake over to get a nice fine soil for planting the seeds in.
In late March or early April you can plant your seeds provided the soil is wet and sticky. Soak the seed in water for a couple of hours before planting to encourage germination. Sow the seed thinly 2-5cm deep (read the instructions on the packet) in rows about 30cm (12") apart.
Water the seed well if it is dry.
After about 3 weeks you should be starting to see some signs of life, these babies are going to be yours for 15 - 20 years so be nice to them! Make sure they get watered well especially if it is dry, weed around them by hand. When the seedlings are big enough thin them to about 5cm (2") apart. Let them grow on.
When they are about 15cm tall (6") thin them again to about 30cm or 1' apart.
Keep weeding and watering.
If your seed have females amongst them they will produce berries. These plants will not be as productive so when they show berries pull them out leaving you with just male plants.
Cut the plants down in autumn as you will each year see aspargus care.
Finally you are going to be transplanting asparagus crowns when they are one year old in March / April one year on.
---