Grilled Asparagus

If you've wondered how to grill asparagus look no further. Grilled asparagus is one of the nicest ways to eat this delicious vegetable, it takes a little longer than microwaved asparagus but lots of people consider it to be a better way of cooking the vegetable, personally I think it tastes better.
Grilling in the garden on your outdoor grill is a treat for those who live in warmer climates but grilling asparagus at home under your cookers grill also works well and either way the same basic method applies.

Basic Grilled Asparagus
Pre heat your grill at medium hot, I usually work on the basis of five to six spears per person and in this case, it is best to use medium or thick spears - the thinner spears can so easily overcook and burn under a grill. Prepare the asparagus, by rinsing and breaking / cutting off the ends.

Roll the spears in a little olive oil so that they are evenly covered and place them at an angle on the metal bars of the grill so that they do not drop down between the bars. Sprinkle on a little salt and pepper, to taste and push the grill under the preheated grill.
Depending on the heat of your grill and the thickness of the spears – you need to check the spears after two or three minutes, if they are grilling nicely, then roll them over, I use a pair of metal cooking tongs for this, a couple of forks will do, but be careful they will be hot they should now be getting a few slightly charred marks on them.
After another couple of minutes, check that they are cooked to your taste by using a fork or sharp knife, remove from the grill and serve.
An extra drizzle of olive oil, or a small portion of butter can be added when the spears have been transferred to serving plates. To change the flavour of the dish you can you can drizzle the spears with a little fresh lemon juice for a change.
For further ideas on how to cook grilled asparagus try our grilled asparagus recipes page. We grow fresh carrots in our cottage garden and they can be a great addition to the asparagus on the grill especially when they are really young and tender.
A Clever Asparagus Grilling Trick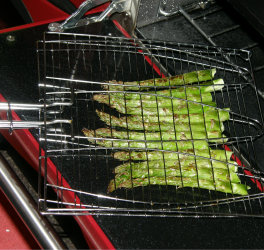 If you want to make grilling asparagus really easy you have two options: (maybe on a griddle) try getting some wooden skewers, soak them in water for 20 minutes then thread the asparagus sideways onto them. You should end up with 10 - 15 spears threaded onto 2 skewers (top and bottom)in a rectangular shape. Now you can handle them easily for brushing with olive oil, turning etc.
This works best with thicker asparagus spears where the asparagus needs to be in contact with the griddle.
With thick or thin spears on a BBQ or under an indoor grill use one of those utensils you use for BBQing fish as shown in the photo. This makes turning the spears very easy.
When you've had a go at grilling asparagus perhaps we can tempt you to try one of these recipes:

Appetizers, Lunch and Side Dishes

Finger and Party Food

---