Propagation of Asparagus Plants
by hilda
(union city california)
I have a 4 yr old asparagus bed and I would like to propagate them
please how do I do that and if I can, when is best time to do it.
I live in union city ca.

thanks
Scarlett Runners With Asparagus
by Mike Haas
(Baltimore MD)
I have a 25 foot row about 5 years old of jersey giant and would like to know if I could plant a few scarlett runner beans within the row after I am done harvesting to attract some hummingbirds. I would not want the beans and would pull all of them up in the fall.
Companion Planting
by Jackie
(SF Bay Area)
Hi,

I am wondering what and how to plant in the asparagus bed. I read you can plant most vegetables, specifically tomatoes are good companion plants.

How and where can I plant the tomatoes in my asparagus bed? I thought I had to be sure not to disturb the roots. How close to the asparagus plants can I plant tomatoes? Finally, can I plant cucumbers and/or zuchinni in my asparagus bed?

I am in Northern Calif, the Bay Area. When and what variety of asparagus should I plant? I have 3 4x6 beds for vegetables and would like to also use for asparagus beds.

Thank you!
Jackie
Splitting Asparagus
by Rob
(Merseyside)
Can I split asparagus plants to make more plants?
Seed Harvest
by Lynn Jamison
(Louisville kY)
If one wants to get seeds from the berries, what is the best approach. Its March now and the berries are still out there but a bit mushy and pulpy. I'm not sure the seeds within are viable.
Transplanting
by Roy
(Lumberton, NC )
We planted seeds in cells of trays and now we need to know several things. Planted seeds in late Feb. they are now very skinny but beginning to take on a fern like look. Do we trim out the tops like we do our other produce, such as tomatoes or squash or do we just let them grow? We trim the leaves down to the bud of those to keep them from getting too big to transplant. How long do we leave them in these cells/trays? It seems that the root system won't be very big at this point. Just not sure how to deal with transplanting from seeds we started.
Baby ferns growing in 3rd year.
by Kati Benelli
(Tennessee)
I planted an asparagus bed 3 years ago. And am now enjoying harvesting the spears. Yay! I have noticed that tiny baby ferns are popping up in other areas of the bed. Should I leave them, or cut them? There seems to be a lot coming up. Thank you.
Fertilizing
When and what do you use for fertilizer besides composted manure?

Add crowns to old bed
by Buddy
(Athens,Al 35611)
I have a 30+year old asp. bed that a majority of the shoots are very spindly and want to fill in bed with new crowns. Should I dig up old plants or just plant close by? (Cannot relocate bed.)
Winter Care
by Elizabeth
(Ontario, Canada)
When it is time to clear the garden, should the dried ferns be cut back or left for the winter- southwestern Ontario- Canada Zone 6 and if the ferns stay all winter when do you start clearing them out? I see fields of asparagus that still have last years growth although my 3 year old plants are sprouting. I ask because after the first year I began finding some very strangely shaped spears and wondered if cutting them back had caused this?
Watering Asparagus
by Nancy
(Michigan)
This is my 3rd year for my asparagus and I live in Michigan. Asparagus is coming up but it's been a dry spring. My question is can I water the plants now that the growth is starting to show or not? And if so how often should I water the small area that I have growing?
New Owners
by Kimble
(Iowa)
We just moved and inherited asparagus patch. Not sure how long they have had it but it has been taken over with grass. Do I need to get the grass out? And from the questions asked previously I should cut all the spears down for 8 was and then just let them grow out right? And our asparagus seems to be randomly growing is it because it's new?
Berries from Last Years Crop
by Terrie
(Wake Forest NC)
Last year I let the berries from the asparagus fall where they may. My question is, will the berries become new plants?
Feeding asparargos
by Thomas
(Ellesmere Port )
Do I feed asparagus when I cut it down ?
Where to Plant
by Donna Ham
(Richmond Quebec)
Is planting asparagus about a meter away from rhubarb ok?
Cutting back the dead ferns after winter kill.
by Ferdinand Provini
(Maryland)
After the asparagus ferns die off in the late fall and winter, how close to the ground should they be cut? Or, should be cut below the ground?
Asparagus at Our New House
by Janice Spaulding
(barre vermont)
I just moved to a new house and I have just seen that there is some asparagus growing in the garden that the people that owned the house before planted. Can you tell me how tall does asparagus get and when do I cut the asparagus because I have not seen asparagus grow before only seen asparagus in a store. Janice
Asparagus overcrowding & transplanting
by Jane
(SW Oklahoma)
My crowns were originally planted too close together & after 4 years they are very profuse. Is there a way to "thin" & transplant?
Weeds Control for Transplanted Asparagus
Hi, I am starting growing asparagus on a 2 acre land. which herbicides I can use as broadcast for asparagus transplants to control weeds?

thank you
Haley
Bad Idea?
I mulched my asparagus with straw, thinking it would control weeds... is this a bad idea? I saw some wilted stems today, which could be because of frost a couple days ago, or is the straw causing damage?SAFARI
Cutting Ferns too Soon
by Betty
(Wisconsin)
What happens if the ferns are cut too soon?
How can we get rid of the female plants without killing the male plants in a raised bed?
by Laura
(Chattaroy, WA)
We only want male spears, since they are much larger and more tender than our female plants are producing.
Downward growing asparagus !!!
by Bunny
(Eastern Ontario Canada)
I have plants that have been producing for about 5-7 years. I tend to get very thick spears and also some thin spears that to me look like they are going to seed quickly. Why would thick spears break through the ground to about 1-2 " and then turn downward back into the earth. this is the first year this has happened and we have had a very dry month of May and also a very harsh winter. I live in Eastern Ontario Canada on the shores of the St. Lawrence river. Any suggestions ??? thanks
Found a huge gone wild rootball
by Michelle
(Michigan)
My son came home munching on a spear, & announced he found abandoned asparagus growing in a site that was going to be torn up. Sprigs had just begun to pop up. Turned out to be a massive overgrown patch, basically growing in gravel, clay, and limestone. I dug up an 18"x 18" hunk/boulder shape of the root ball mass. Went well below the bottom of the roots, & retained as much original soil as possible. Soaked it and plopped it,still in tacked, in good soil. Seems to have made it without going into shock. It continues to sprout. I'm letting it go to seed. -Now what? Do I leave it be, or attempt to thin out and organize the crowns this fall?
Some asparagus plants in an established bed didn't come up
by Andy
(Massachusetts)
Hi, I planted Mary Washington asparagus in a raised bed about 5 years ago and have been very vigilant about their care. We've enjoyed a wonderful harvest two years ago, slightly less last year, and this year a few plants didn't come up at all. Each year after harvesting, I add 2-3 inches of compost, let the ferns grow until late fall, and then add another 2-3 inches of compost before cutting them down. I keep it well-weeded. We haven't picked any of the asparagus this year at all. Should I dig up the dead plants, and replace them, or is there something else you would recommend? Thanks very much.
Growing
by Steve
(Missouri)
I have 2 plants that are 2-3 yrs. old and both only have 1 shoot coming up. I cut this one off and later another will appear. Help!
Thin Asparagus after 5 years
We transplanted some asparagus and also bought some new ones to put in a new bed 5 years ago. The first year the asparagus came out thin but okay. After 5 years a lot of the asparagus is still thin-1/8 of an inch in width, but some is fine 1/2. Not sure what to do to make the asparagus grow bigger.
Some asparagus plants in an established bed didn't come up
by Andy
(Massachusetts)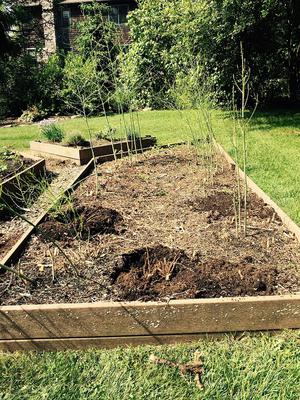 The asparagus bed
Hi Susan,
Here are the photos I mentioned. If you need any additional information, please don't hesitate to ask.
Best,
Andy
All Ferns
by Steve
(Kerrville, Tx.)
We just moved in and there were ferns in a space out back.
We planted more crowns in April this year. All we have out back are ferns that are about two feet tall. what do we do?
Cut the ferns to ground or a inch or two under ground?
Thanks for your help.
Steve
Curled back of stems
by Ben Bosley
(Annapolis, Md)
My asparagus bed is well established and I decided to move it to a raised bed this spring. I dug up big clumps and move to the new bed. When the spears stared coming up many curled back into the ground. What would cause this condition? I have stopped cutting and I am letting it all go to ferns. Live in Annapolis, Maryland. Will try to add picture later.
Old Site of Asparagus
by Brenda
(South West Manitoba)
Moved to an older farm yard and found some asparagus growing in the long grass pulled grass out from around it and have a few shoots growing but not many. Should I pick these or leave them and is there anything else I should do to the site.
Prune back fern height
by Phillip
(Kansas)
I am from Kansas USA. The wind here is very strong all summer. I have 200 asparagus plants that just got done with their spring bounty. This is their 3rd spring after planting. They are VERY productive healthy plants. My problem is the ferns are 7-8' tall (almost 3 meters) and still growing. I have put in a fence with soft rope about 3' tall opposite they prevailing wind but being this tall they are sure to break over. Can I prune some of the height? I know they store energy for next year via the fern but these are just out of control.

Thanks,

Too Tall Fern
---