Asparagus Sauce

You've found your way to this page on asparagus sauce. The question is: were you looking for a sauce made and flavoured with asparagus or a sauce to serve with your asparagus? We'll try to cover both and if you scroll down you will find links to all our sauce recipes including recipes using sauces and asparagus e.g. Lasagna.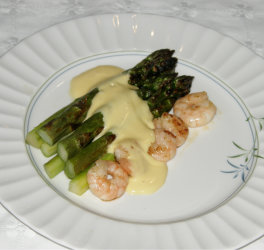 Sauces to serve with Asparagus
The classic sauce to serve with asparagus is hollandaise sauce. This sauce has a lovely rich creamy texture and a lovely tang to it that complements the flavour of the asparagus. It's well worth a try and if you want to add a really sophisticated feel to your meal I can definitely recommend it.
Hollandaise sauce is made from egg yolks, lemon juice and olive oil and full instructions can be found here.
You could also try a Maltaise Sauce or a Mousseline Sauce These are both variations on hollandaise sauce. For a Maltaise sauce replace the water with orange juice and / or add orange juice and grated orange rind for extra flavour. For the Mousseline integrate thick cream into the hollandaise sauce.
Another sauce for asparagus that might appeal to you is a basic cheese sauce, perhaps made with a nice mellow cheese. Asparagus with cheese sauce is a nice comforting food. Alternatively if like us you like stir frying you could try pasta with asparagus, your choice of Mediterranean vegetables stir fried along with some pesto sauce. Our daughter loves this sort of thing and we often make it out of the odds and ends we find in the fridge. It even keeps well in a tub as a homemade pasta salad for lunch at work, college or school.
If you've never made cheese sauce before asparagus with cheese sauce is a good place to start and the technique for makeing a sauce like this well worth knowing. Once you get the hang of this sort of sauce making you can make just about any sauce. It's not difficult either!
Sauces made with Asparagus
We include in this category asparagus puree, asparagus pesto and a range of other asparagus sauces.
Pesto sauce originates from Genoa in Northern Italy and traditionally using garlic, basil, pine nuts, olive oil, Parmigiano Reggiano and Fiore Sardo (these latter two are both cheeses). The ingredients are pounded together (from where the word pesto comes) using a pestle and mortar. Modern commercial pesto sauces use a variety of alternative recipes replacing some of the more expensive ingredients with cheaper options.
Our Recipes with a Sauce

Our Asparagus Pesto Recipe
This recipe uses raw asparagus and gives a pesto with a fresh crunchy texture.
Ingredients
200g asparagus
3 or 4 leaves fresh basil
1 garlic clove, peeled
20g pine or pecan nuts
olive oil
pinch of salt
30g parmesan or parmigiano regiano cheese
Directions
Snap the ends off the asparagus and discard (or use for soup), snap the spears into short lengths roughly 2 inches long


Place the asparagus, basil, garlic, nuts, cheese, salt and a little olive oil in a food processor and blend


Keep blending and adding olive oil to a nice consistency, you will probably use about 30ml olive oil


Depending on your processor you may it easiest to grate the cheese first or you may get lumps that need coaxing to get blended


I would suggest you try this very fresh pesto sauce with pasta, as part of a salad, on jacket potatoes or as a side with a barbeque.
 Try these ways to Cook or Store Asparagus

Fancy Trying One of Our Favourite Recipes?

or visit our main
---