Asparagus Juice

Asparagus juice will be very familiar to some and completely unfamiliar to others. A bit of background is needed before we launch into the recipes.....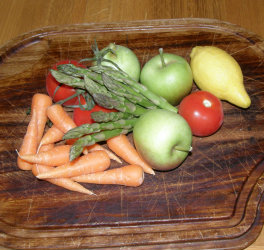 In the far east you will find bottles/cartons/cans of asparagus juice on the shelves of shops and supermarkets. Here in the UK you'd have to be a pretty dedictaed shopper to find the store that stocked such an unusual juice! I think most of us in the UK would look at bottles or cartons of this juice as a slightly eccentric purchase!
However juicing fruits and vegetables is now a widespread niche activity amongst those with an interest in diet and health here in the UK as well as around the world. If you are into juicing, asparagus can be used as an ingredient, in a mixed juice or as the primary ingredient to make asparagus juice. (See below for recipe)
There are plenty of claims around concerning the health benefits of asparagus generally and asparagus juice in particular.

It is difficult to establish the scientific truth about asparagus and other juices, however, I have an instinct to put some faith in natural remedies and healthy eating; I am not convinced we will ever truly separate fact from myth in many cases but the one thing we know for sure is that a good balance of fruit and vegetables eaten as fresh as possible and with as little processing as possible are more likely to do you lots of good than much in the way of harm.
I am quite sure that if you like vegetable juices then those that include asparagus will be good for you as part of a balanced diet. If you have an ailment for which it is claimed the juice has benficial effects I see no reason not to try including the juice in your diet to see whether it works for you. However, I would not eat or drink anything in excees as a medicinal cure without the advise of a doctor.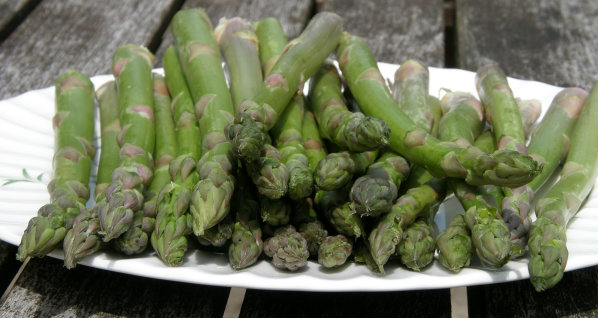 The claims include that Asparagus Juice:
• is a good diuretic and helps with kidney disorders although there are warnings about too much of the juice being difficult for your kidneys to handle.
• yields good results at anaemia and diabetes, when combined with other juices, intended for treatment of these illnesses.
• is traditionally used for: rheumatism, bowels, as a blood purifier, eye problems, gout, nervous system, prostate (mixed with carrot juice), skin problems.
Chinese Herbal Remedies suggest it has benefits for the treatment of: coughs, mucous discharge, swellings, skin eruptions and as a diuretic
If you are interested in herbal medicines, natural remedies etc. you may find www.themedicinehut.com/vegetable-juices.html an interesting site to visit.
Follow this link for information on the juicing equipment you will need to produce juices.
Asparagus Juice Recipes

Asparagus can be added to any vegetable juice but is good when mixed with apples and / or carrots. Suggested proportions are 1 cup of asparagus to 2 apples (to sweeten).
There is no need to trim off the bottoms of the asparagus spears nor to peel the apples. However do wash and core the apples to remove any trace of pesticides and seeds and rinse the asparagus.
Put the ingredients in your juicer and off you go. You might like to try adding a little lemon juice.
Asparagus, Carrot and Tomato Juice

Ingredients
1/2 lb Asparagus spears
1 lb carrots
1 Tomato
Directions
Process all ingredients according to your juicers instructions
Fancy Trying One of Our Favourite Recipes?

or visit our main
---