Asparagus Facts

Gathered here you will find lots of asparagus facts. One that causes a lot of interest is where does that asparagus urine smell come from?
We will look at what family the Asparagus Plant comes from and where the major growers are around the world along. You may also be interested in the history of asparagus and what asparagus is in terms of the classification of plants and when asparagus is in season.

 Then there are all those different ways you come across asparagus - canned asparagus, frozen asparagus, wild asparagus, white asparagus.
So here goes:
Asparagus Fact 1 - Urine Smell
Studies have shown that not everyone produces urine with that distinctive asparagus urine odor and that not all those that do produce urine with this smell can smell it. However somewhere between a few and 2/3rds of the population produce "asparagus pee" so don't worry, you are not alone whichever group you fall into.
The smell comes from the metabolism of a sulphorous compound found in asparagus called Mercaptan. This same compound is found in rotten eggs, onions, garlic and skunks scent!
There is no agreement on the actual compound causing the smell but various studies indicate that both the production of the smell and the ability to smell it are linked to an individuals genes. Quite a lot of studies have been done but more work is needed to fully understand what is going on.
Along with something that retains some mystery are some facts that are not known to be true: It is not a known "asparagus fact" that producing the asparagus urine is a sign of intelligence! nor should you worry that eating asparagus is bad for you just because it makes your pee smell funny!
The Asparagus Family - Fact 2

Asparagus comes from the Lily family (liliceae) along with the onion, garlic and tulip.
There are 5 main species of asparagus one of which is the well known edible asparagus officinalis that is the subject of this site.

Wihin this species there are many varieties of aspargus each with different properties including differing flavour and choice of best growing conditions.

History of Asparagus - Fact 3

In brief asparagus goes back to as early as 3000 years BC, was first cultivated by the Romans and then started to grow in popularity in Europe in the 16th Century.
If you are interested in a much more detailed look at the origins of the word asparagus, the history and / or have some local history you can add please read more...

Question 1 - Is Asparagus an Aphrodisiac?

This story deserves a page all to itself!
Asparagus Fact 4 - Densiflorous
Asparagus Densiflorous is an ornamental plant grown in the UK amongst other places as a houseplant or conservatory / greenhouse plant. It is one of the five asparagus species one of which is the garden asparagus we love to eat.  You will find more information on this plant at the RHS website

Question 2 - Where is Asparagus Grown Globally?
Asparagus is grown all around the world including : Australia New Zealand , UK, France, Germany, Spain, Peru Italy, USA, Thailand, Mexico, China.....
Click on the country to learn a little more about asparagus in that are of the world. You may also be interested to read a little around the issues surrounding "should we buy Peruvian asparagus?" which is widely exported to the USA and Europe.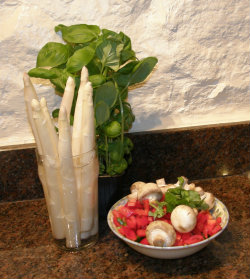 Fact 4 - White Asparagus
White asparagus is so popular on the continent that it deserves it deserves a page all to itself.
Fact 5 - Wild Asparagus
Wild asparagus is just what it says a cousin of the cultivated asparagus can be found growing in the wild if you know where to look.
It is thinner and longer than the cultivated varieties and has a more delicate flavour.
For a full page of information follow this link.
You may find the spears slightly earlier in the season (April) than the May / early June of the cultivated variety.
More asparagus facts surrounding Wild Asparagus including typical locations in Europe can be found at the National Trust Website
Asparagus Fact 6 - Purple Asparagus
Another "Asparagus Fact" : Purple asparagus is a variety (or more accurately a number of varieties) of asparagus. It tends to be sweeter than the green spears due to a slightly higher sugar content. As a result it is often good eaten raw in salads etc.
The higher sugar content is not sufficient to leave you reaching for your calculator to count the calories. Purple asparagus is still a good healthy low calorie vegetable.
Canned Asparagus - Fact 7

Both White and Green asparagus can be purchased canned although the "can" is sometimes a glass jar! White asparagus is sold in this form widely on the continent and especially in Germany. It is less common in the UK. You might find them hidden away on the top shelf in the supermarket or in a local delicatessen or online. Buying online with delivery charges will however work out to be quite expensive.
You will find varying views on the taste / texture of canned asparagus...! Be your own judge and try using it in recipes rather than just straight out of the tin.
Your best bet might be to buy excess asparagus during the fresh asparagus season and can them yourself.
Asparagus Fact 8

Asparagus is in season in spring ....read more

Test Your Asparagus Trivia Knowledge

How many of the "10 things You Didn't Know About Asparagus" do you think you will get right? Test yourself here.

Packet and Tinned Asparagus Soup Comparisons
Asparagus is sold in many processed forms including packet and tinned asparagus soups. Follow this Asparagus Soup Taste Test link to see what we think of some of these products.
Fancy Trying One of Our Favourite Recipes?

or visit our main
---