The Asparagus Salad & Light Lunch Collection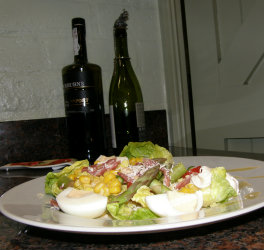 Asparagus Salad makes a healthy tasty treat for lunch in summer. Salads are one of my favourite light lunches in summer with a whole host of combinations of raw or lightly cooked vegetables and leafy salads eaten with quiches, cold meats, canned or fresh fish .... the list goes on. 
But then there is another host of light lunches based around or combining asparagus which are just perfect in the summer.
Here we bring together a range of our recipes that might be enjoyed at lunch time or any other time when you fancy something light and tasty. We also include some slightly heavier recipes that are not really main meals in themselves and ideas for snacks and outdoor eating. We hope you find something that takes your fancy. 
Scroll on down for our advice on Asparagus Salads.

The Recipes

Asparagus Salad

There are so many ways to make an Asparagus Salad that I don't know where to start. I looked up the definition of a salad and I got "a cold dish of various mixtures of raw or cooked vegetables, usually seasoned with oil, vinegar, or other dressing and sometimes accompanied by meat, fish, or other ingredients". So pretty much any combination of asparagus and at least one other vegetable!There are lots of recipes for Asparagus Salads but here are a few tips to get you started putting asparagus into your own combinations:
Raw or Cooked?

Asparagus is a lovely fresh crunchy vegetable served raw but here are some tips:
Purple asparagus is prefect for salads if you can get it as it is higher in sugar and consequently sweeter, perfect for eating raw
Thin spears are probably nice to eat raw in a salad than thick if left unchopped
Thicker spears are still really good in a salad but may be best chopped on the diagonal into short lengths
Using a wide peeler you can cut slices of asparagus that look really special / trendy
If you are going to cook your asparagus to serve it in a salad here are a few suggestions:
Try roasting or grilling your spears rather than steaming them for a good texture
Try blanching as an alternative to steaming to maintain texture
Out of season try some Canned White Asparagus for a change
Try some home-made pickled asparagus or asparagus chutney with your salad
With these thoughts in mind here are a couple of Asparagus Salad Recipes you might like to try
Cold Asparagus, Egg and Salmon Salad

These three ingredients complement each other and are perfect partners for a salad. Serve them together as a starter, a light lunch or with a few extra's as a really healthy main.
In the summer we often hard boil a few eggs at a time or cook an extra piece of salmon in the evening then keep it in the fridge for a couple of days to use in a light lunch salad like this one. Makes lunch very quick and easy.

The recipe serves 4 as a starter or 2 as a main course. For a light lunch serve with your favourite type of crusty rolls or bread and for a mian meal try adding new potatoes or some brown rice.

INGREDIENTS

2 salmon fillets

2 hard boiled eggs

400g fresh asparagus spears (see tips above for chosing asparagus for a raw salad

1-2 fresh lettuce depending on size

Fresh herbs : corriander, chives, parsley,

8 cherry tomoatoes or 2 regular tomatoes

half a cucumber

Directions

To hard boil the eggs: place the eggs in a pan of boiling water and simmer for about 8 minutes, take the pan to the sink, empty out the boiling water and immerse the eggs in cold water, change the water for new cold water several times to cool the eggs as quickly as possible, this stops the area around the yolks from going grey, when completely cold peel and cut into four segments each
To cook the salmon: Wrap the salmon in a piece of cooking foil with a knob of butter, salt & pepper and some chopped parsley, seal the foil around the fish and place in an oven at 180C for 15-18 minutes. Remove from the oven, check that the fish is a light pink colour right though to the middle. Cook for a few more minutes if not. When cooked re-seal in foil and leave to cool.
To prepare the asparagus: depending on the thickness of the spears choose how to prepare them from the tips above, if you only have thick spears you could steam them at the last moment and have them hot or at least warm
To prepare the salad: Cut the outside leaves off the lettuce and rinse the leaves to be used, chop the tomatoes in half and cut the cucumber into slices (peel the cucumber first if it gives you heartburn, personally I like the flavour of the skin but my husband won't eat it), arrange on your serving plates
Chop a selection of the fresh herbs over the salad (my favourite is the coriander)
Unwrap the salmon and arrange according to whether you are having a starter or main course
Top with hard boiled agg and asparagus

---

Enjoy with your favourite salad dressing!

Cooking Time: 20 mins  
Prep Time:       10mins
Serves:              4

Where to Buy Asparagus and what to look for


Asparagus Season


Basic Preparation of Asparagus


Equipment for Cooking Asparagus

As an alternative to cooking the salmon in the oven you could try the Fish & Veggie Steamer that i use for microwaveing asparagus. I don't know what we'd do without ours!

You might also be interested in our ideas for asparagus salads in your lunch box and in our asparagus quiche recipes and our asparagus frittata recipe both of which are great with salad for a light lunch or summery supper.
Fancy Trying One of Our Favourite Recipes?

or visit our main
---