Health Benefits of Asparagus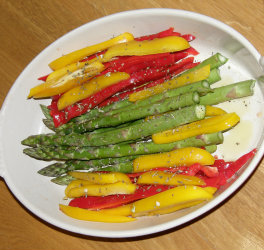 Asparagus has a pretty healthy image but what are the real health benefits of asparagus? how many calories in asparagus? is there any evidence that asparagus is a cancer fighter, is it a myth or a hoax? What nutrients are there in asparagus? We will try to answer all of these questions here.
Asparagus is one of those healthy foods that can contribute to healthy meals leaving you feeling as though you are eating well and enjoying your food. If you are trying to get your 5 a day fruit and veg the advice is to eat 80g of each item. 5 spears is about the right quantity for your 1 portion.
How healthy your asparagus is going to be will be influenced by how you cook it and what you eat with it. Whilst asparagus smothered in melted butter tastes absolutley delicious the butter is going to provide most of the calories and a lot of fat. However there are plenty of ways to enjoy asparagus without layering on the butter. Take a look at some of the recipes for ideas and also take a look at different ways to cook asparagus for more ideas.
The good news is that asparagus can help with hangovers!
Whilst Asparagus isn't going to deliver you many calories it is going to deliver you plenty of asparagus nutrition which is one of the benefits of healthy eating.
The essential facts are as follows:
In a portion of 5 spears of asparagus you will find:
80kJ / 20kcalories
2.3g protein
1.7g fibre
1.5g carbohydrate(of which 1.5g sugars)
0.5g fat (of which trace saturates), trace of salt, trace sodium high in folic acid and potassium
Follow this link to see how the calories in asparagus and asparagus nutrition compares to other fruit and vegetables. Asparagus Nutrition Facts
In putting together a healthy diet the health benefits of asparagus are such that it can be fitted nicely into a low glycemic index diet. Its always good to be able to put something this tasty into a diet isn't it!
And if you like your vegetable juices you may like to take a look at our page on asparagus juice and its properties. or find out about Asparagus Extract which is sold in tablet form as a diuretic.
Finally there are the claims surrounding asparagus and cancer. Are they true? I think its best to assume its not a wonder cure but no doubt as a fresh vegetable it is a perfect way to get one of your 5 a day fruit and veg to reduce the cancer risk.
The California Asparagus Commission quote studies as showing that green asparagus is higher in a number of nutrients than white asparagus. They say for example that green asparagus contains nearly 3% by weight of protein compared to less than 2% in White Asparagus. They also state that White Asparagus contains half the ascorbic acid and calcium that Green Asparagus contains and that Green asparagus contains more than twice the thiamin and niacin.
Fancy Trying One of Our Favourite Recipes?

or visit our main
 Try these ways to Cook or Store Asparagus

---