Roasted & Grilled Asparagus Recipe Collection

The basic skills of roasting and grilling asparagus are found in our Cook Asparagus section but here we bring together our range of recipes that take those basic techniques and add other ingrediants to create some delicious raosted and grilled asparagus recipes for all sorts of occasions. 

The Recipes

| | | | |
| --- | --- | --- | --- |
| | | | |
| | | Asparagus Rolls (Asparagus & Stilton tucked up in chicken and bacon & roasted to perfection) | |
| | | | |
| | | | |
| | | | |
Grilled Asparagus Recipes

Each grilled asparagus recipe you find here is quick and easy but lends itself to a little experimentation. You may be thinking of cooking on an outdoor grill or under an indoor grill. Some of the recipes will work better using one method or another. Or you may plan on griddling on an indoor griddle. Follow the recipes then try adding your own variations.
Grilled Asparagus Recipe with Stilton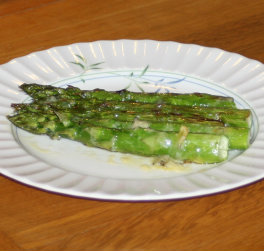 For an indoor grill
Ingredients:
Serves 4 as an appetizer
20 to 30 asparagus spears (about 1lb)
4 oz Stilton Blue Cheese
Olive Oil
Description:
Snap the ends off the asparagus spears and set out on the grill tray close together
Drizzle with a little olive oil (go easy not too much)
Grill under a hot grill until the spears are just turning golden
Turn placing them back on the grill wires sitting very close to each other
Sprinkle a very fine layer of stilton crumbs over the asparagus and place back under the grill
When the stilton is bubbling nicely remove from the grill and place on serving plates
Eat immediately with light crusty rolls or just as it is without any additions.
If you are interested in Grilling Fruit, visit Peach-depot.com for instructions on grilling all types of fruit, and grilled fruit recipes.
Tasty Marinated Asparagus

Suitable for all types of grill
Ingredients:
serves 4
20 - 30 asparagus spears (aprox 1 lb)
Fresh Rosemary finely chopped
2 Tbsp balsamic vinegar
2 Tbsp lemon juice
1 Tbsp olive oil
1/2 Tbsp soy sauce
Black pepper
Directions:
Snap the ends off the asparagus
Combine rosemary, vinegar, lemon juice, olive oil, soy sauce in a flat bottomed dish.
Lay the asparagus in the dish, roll around to cover with the marinade and cover with cling film.
Place the dish in the fridge for 30 minutes or until ready to cook.
Remove asparagus from dish and place on grill tray.
Sprinkle on some freshly ground black pepper.
Grill until turning a light golden colour (about 5 minutes)
Turn and repeat.
Serve hot as a side dish or cool and serve chopped with a salad.
Either way - Enjoy!
---