Asparagus Fun - Take a look, need we say more?

We've been keeping our eyes open for the more frivolous side to asparagus fun. You'd be suprised what you come across. Scroll on down to see an asparagus cake it's just fantastic .....
As for this, what is there to say but thanks Twitter for finding us the weirdest stuff to look at!!
The Amazing Asparagus Cake

You need to look at this picture twice before you really believe your eyes. Go on ....look again..... then scroll down to see how it is constructed.
It looks just like a bunch of asparagus but its all a lot sweeter than that.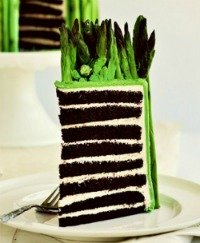 Underneath those asparagus spears is a multi layer chocolate cake put together by Sweetapolita who clearly is a perfectionist of the highest order. You will find full instructions on how to make this spectacular piece of asparagus confectionary on their website
Just look at these photos to see the detail involved....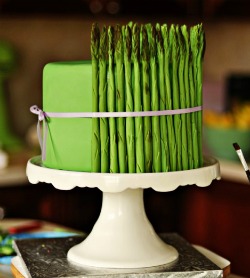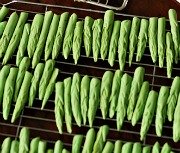 Fortune Telling with Asparagus

If you care to believe her Jemmima Packington claims that she can tell the future using asparagus. Not only that but she claims to predict the future for 2012 with frozen asparagus grown in 2011! Surely you need fresh asparagus to predict the future!!!
She claims that Worcestershire asparagus is particularly good for predicting the future based on trying out asparagus grown in other regions. Well that makes sense then!!
Me, I'll be basing my predictions on tea leaves until the asparagus season is properly underway.....
Asparagus Candles

I found these asparagus candles and thought that someone a bit mad about asparagus might like to see them too. I think they sum up quirky asparagus without being "naff". Take a look see what you think!
Fancy Trying One of Our Favourite Recipes?

or visit our main
---