Asparagus Side Dish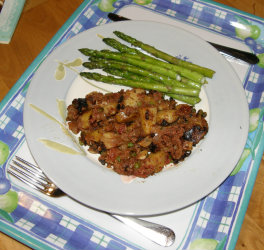 A recent tweet from an asparagus lover wanting suggestions for an asparagus side dish set me thinking. We regularly eat steamed asparagus with butter as a side dish but what other asparagus dishes are particularly good as a side dish and what does asparagus go with particularly well?

What does Asparagus go well with as a Side dish?
Because asparagus has quite a distinctive flavour I think it works well with both light flavours and some stronger flavours as its flavour is not swamped by the stronger flavoured dishes but has enough of its own impact to lift a more subtle main without overwhelming it.
As such we enjoy asparagus with
steamed or grilled salmon (this is seen a lot as a pairing)
all sorts of fish dishes including haddock, cod, plaice, fish cakes etc.
chicken casseroles, roast chicken pieces,
Beef casseroles and stews e.g. steak & kidney, braising steak, oxtail
Fried Kidney or liver & bacon (if you think you don't like these dishes make sure you've tried them since you hated it for school dinners!!cheap cuts with amazing flavour)
Grills and BBQ's
Corn Beef Hash as shown in the picture above or Roast Gammon Photo below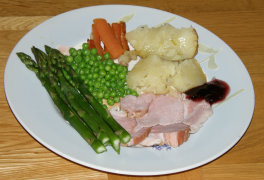 The list goes on and on but hopefully this will give you some inspiration.
A word of warning: I think it's best to avoid letting fresh asparagus get drenched in gravy, eat it as a side with the casseroles or roast dinners to make the most of both the main and the asparagus.
Asparagus dishes suited to serving as a side
Starting with the basics, the most obvious asparagus side dish is steamed asparagus with butter and a little seasoning. The simplicity of this dish makes it the first on my list for an easy but delicious side any day.
Next up would be roasted, grilled or sauteed asparagus. Again these two are easy, tasty and elegant. There are quite a few variations to the roasted and grilled and sauteed themes, adding various flavourings and mixing them with other vegetables for added colour and variety. Recipes to check out would include:
Roast Mixed Vegetable Side Dish
Out of fresh asparagus season you might try this
White Asparagus with Caper Salad
For a really colourful asparagus side dish try this Sweet Pepper and Asparagus Bake:
Pepper and Asparagus Bake
A great way to combine two healthy foods with a lovely contrast of colors to add to the appeal.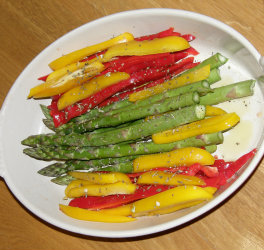 Ingredients
Serves 2
eight asparagus spears, washed and trimmed, or more if required
two sweet red pointed peppers washed, seeds and core removed and sliced along their length
one yellow pepper prepared as per the red pepper
Italian herb seasoning
Salt and pepper to taste
Olive oil
Directions
Preheat oven to 350°F, 335F for fan ovens


Place the asparagus in a shallow ovenproof dish – see photos for the best ideas, choice of dish adds to the presentation!


Arrange the red pepper on either side of the asparagus spears.


Follow up with the yellow pepper, so that you get a nice contrast in colors.


Salt and pepper to taste.


Drizzle olive oil over the asparagus and pepper.


Sprinkle Italian herb seasoning over all the vegetables, to taste.


Place in the oven for 20 to 30 min.


When cooked to taste remove from the oven and serve


Note:
If you wish, sliced garlic cloves can be added as a variation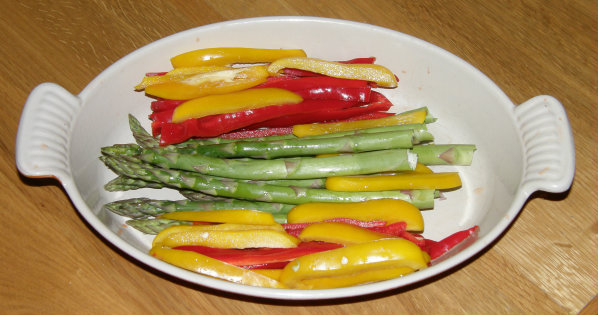 Try these ways to Cook or Store Asparagus

---