An Individual Asparagus Tart Perfect Party Food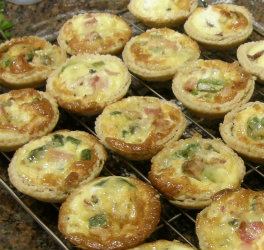 Our individual asparagus tart recipe will leave your guests highly impressed with your party food and you chilled out and relaxed because you cooked them weeks ago and just got them out of the freezer. 
We threw a pre Christmas party early in December this year and told our guests to expect "substantial nibbles". These tarts were one of the key items on the food list and they turned out perfectly and tasted delicious. The only problem was that I was not quite organised enough and had to cut some in half to find the special vegetarian options i had made for our one veggie guest!
INGREDIENTS
For the Pastry


200g (8oz) plain flour

50g (2oz) lard

50g (2oz) butter or cooking margerine

(if using butter get it out of the fridge in advance so that it is just soft and eay to work into the flour)


salt

For the Filling


2 rashers bacon

8 asparagus spears


50g (2oz) stilton

6 eggs

50ml milk

Directions

First a few tips for great pastry: make the pastry first so that you can put it in the fridge to rest for a while whilst you make the fillings.

For good pastry you need to keep everything cool including your hands.

Use a food processor to rub the fat into the flour if you tend to have hot hands or find rubbing in a chore.


Cooking Time: 10 mins  
Prep Time:       30 mins
Makes:              24


For these asparagus tarts I find a really simple short crust pastry gives a crisp light bite that is perfect for a few mouthfuls of great taste. 

I cook these asparagus tarts then freeze them. When I want to use them all I do is pop them on a baking tray and reheat straight from the freezer for about 8 minutes on 180 dregrees C.  Great for parties, unexpected lunch guests or a quick snack for hungry children.
Either put the flour, fat and salt into a food processor and whizz briefly until the fat is mixed in with the flour and resembles breadscrumbs or rub the fat in by hand. If I am cooking for a party I will use the food processor and make a number of batches. If I am just doing one batch I find it quickest just to rub in by hand. If you used a food processor tip out into a mixing bowl and then in either case slowly add cold water pulling the mixture to gether with a knife until a dough starts to form. Add just enough water so that the dough pulls all the flour clean away from the bowl sides. If it is too sticky it will be difficult to work with and the pastry will end up hard but if it is too dry the pastry will crumble as you roll it out.

Wrap the pastry in a plastic bag or cling film and place in the fridge to rest.
Preheat the oven to 190C (375F) gas mark 5
Now prepare the fillings whilst the pastry is resting.
Snap the ends off the asparagus and cut into very small pieces no more than 1/2 cm long each. Lightly fry until just starting to golden and lose its raw snap.

Cut the bacon into very small pieces and fry until just getting crispy.
Crumble the stilon ready to add to the tarts.
Lightly whisk the eggs and milk together and crumble in the stilton. Season with salt and pepper.
Now roll out the pastry on a floured surface and cut tart shapes with a fluted circular cutter and use them to line patty tins.

Pop a cup cake case on top of each piece of pastry and fill with a few baking beans or some dried split peas. Bake the pastry (baking blind) for about 8 minutes until just starting to go golden on the edges. Remove from the oven and remove the cup cases complete with baking beans.
Put a few pieces of bacon and asparagus in each tart and top with stilton.

Finally very carefully pour the egg mixture into the tarts trying not to spill. Be quite quick about this you don't want the egg mix making the pastry go soggy. 
Pop the asparagus tart tray straight into the oven

Cook for 10 minutes or until just set and golden.
Try out alternative fillings for a variety of asparagus tart flavours. Caramelised onions, mushrooms, finely chopped spring onions, red peppers, prawns, left over turkey all make great combinations with asparagus.

Fancy Trying One of Our Favourite Recipes?

or visit our main
---