Asparagus with Cheese Sauce

We enjoy asparagus with cheese sauce as a light lunch in spring. While the weather is still getting over winter but as soon as asparagus hits the shelves this makes a warming snack combined with the taste of spring. Once the salad crops get into swing in the garden we switch over to salad but until then this recipe hits the spot.
It also makes a great appetizer with prawns.

Our Asparagus with Cheese Sauce
Use your favourite cheese with this recipe to adjust the overall flavour. There are so many fantastic cheeses to try you could be experimenting with different versions of this recipe for years to come!
The recipe is very simple and its quite quick to make be sure not to end up with lumpy suace by adding the milk slowly and beating in well over a low heat.

INGREDIENTS
400g asparagus
25g Butter or margarine
25g plain flour
300ml milk
50g cheese
pinch of salt
pepper to taste
Directions
Snap the ends off the asparagus and discard (or use for soup), grill or steam the asparagus by your favourite method while you prepare the cheese sauce
Place the butter or margarine in a small saucepan and melt over a low heat
Remove from the heat and stir in the flour with a wooden spoon to form a paste
Slowly and carefully add ¼ of the milk slowly incorporating it into the paste without allowing lumps to form
Return to a low heat and continue to add the remainder of the milk again ensuring that it is fully mixed in without lumps forming
Add the grated or crumbled cheese and keep stirring until the sauce thickens and the cheese has melted
Place the asparagus on plates and pour a small quantity of cheese over each serving of asparagus
---
Enjoy while hot with crusty bread or rolls.
Some variations include:
For an extra cheesey addition you could place the asparagus on a heat proof plate, sprinkle some grated cheese over the sauce and grill until the cheese bubbles up nice and crispy on top


Add a few anchovies or capers for a bit of a punch


Dust sliced tomatoes with fresh finely chopped herbs, brush with olive oil and grill. Add the tomatoes as a side dish with the asparagus and cheese sauce
Cooking Time: 10mins  
Prep Time:        5mins
Serves:              4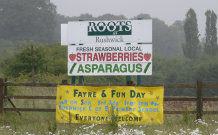 Where to Buy Asparagus and what to look for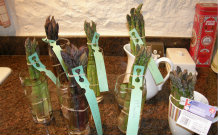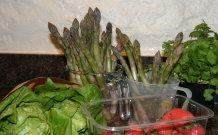 Asparagus Season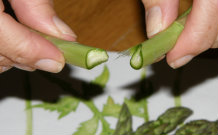 Basic Preparation of Asparagus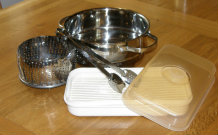 Equipment for Cooking Asparagus

If you have enjoyed this recipe you might also be interested in:Grilled Asparagus with Stilton
Fancy Trying One of Our Favourite Recipes?

or visit our main
---