West Brookfield Asparagus Festival
This years Festival Date:
TBA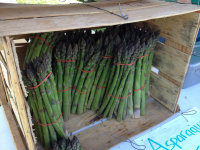 The West Brookfield Asparagus Festival is a local festival dedicated to Diederick  Leertouwer who is thought to have introduced asparagus to New England or possibly even the USA back in the 18th Century. We have been lucky enough to hear from Ruth Lyon who has researched the history and also sent us information about their annual festival.  Here is a summary of what she can tell us about their annual festival. If you live nearby I'm sure it would make a very enjoyable day out.
The Origins of the West Brookfield Asparagus Festival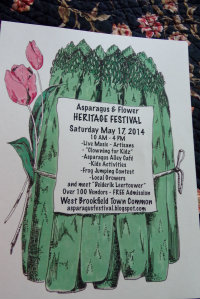 In Ruth's Words
           "Back in 2002 members of the Quaboag Historical Society and the West Brookfield Historical Commission determined to hold a springtime festival on the town common. (It might be noted that, in the manner of all small towns, many of those members served on both committees.) In a magic moment of inspiration, they determined to honor Diederick Leertouwer's legend by naming the festival for his contribution to gardens all over America. A green logo was adopted, word spread, and people came. Everybody smiled at everybody else. It was a happenin' event in a happenin' town, and it continues to happen.
           Thus was born the West Brookfield Asparagus & Flower Heritage Festival, devoted to all things earthy and artisanal in a friendly, celebratory atmosphere that would also, in the spirit of Diederick  Leertouwer, promote trade.
          The festival has grown. Thousands of happy visitors now arrive at the junction of Rotes 9 and 67 on the third Saturday in May. Asparagus abounds, in every conceivable form. You'll meet a man who answers to the name of Diederick, and yes, there's a photo op. Some of the people you meet will inform you that they still have strains of the original asparagus growing  wild in their yards."        
Activities and Attractions

If we share with you extracts from the 2014 press release you will get a good flavour of what to expect. In the manner of this type of event each year will surely have a variety of events and attractions along the same lines but with some new twists thrown in for variety.
 The press release included the following
           "From 10:00 a.m. to 4:00 p.m., the much-loved and eagerly anticipated Asparagus and Flower Heritage Festival will welcome visitors from across New England and beyond to spend the day enjoying this splendid ode to Spring and tribute to the slender, tender stalk of green it's named for.
          One hundred juried vendors of things earthy, artistic and artisanal will provide food for the senses and for thought - here's history, gastronomy and the pleasure of your company, all of you, as you meet and greet the thousands of friends of Diederick  Leertouwer. In fact, perhaps you'll meet the man who, tradition informs us, brought asparagus to America  in 1794, right here in small, scenic and altogether remarkable West Brookfield.
          All free and open to the public, bring the kids, the grandparents, the whole family, or neighborhood, to browse for plants and pleasurable things, enjoy the music, and, of course, venture down the enticing Asparagus Alley. There you will savor the justly- famous asparagus chowder; in fact, a tasty array of dishes dedicated to the delicately delectable vegetable. Meanwhile, the church ladies serve up their  home baked pies;  the men stay busy at the grill with burgers, dogs, sausage and such. Lunch and munch to the music of Dick Chase and friends as you witness the joy of this day.
          Bring your own frogs to jump their way to victory -  the contest is scheduled for 1:30. Artisans will demonstrate - you may wish to help the blacksmith make a nail and stamp it with your initials. Artists will discuss their work and techniques as you admire affordable art you can take home.  There are photo ops everywhere, and music - just  pull up a hay bale, sit and listen - and did we mention the glorious food? The honeys, jams, maple syrup. Love in a jar or bottle.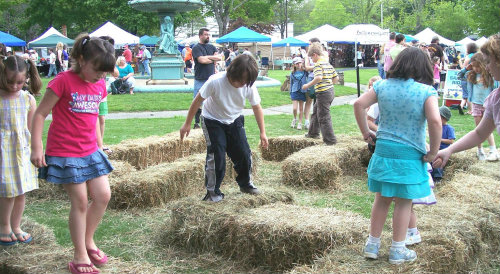 Youngsters and the young at heart will be charmed by the Clowning for Kidz bus full of clowns - the yellow bus, sporting myriads of balloons, will enliven the afternoon with its cargo - more than a dozen clowns, ready to amaze and amuse with frolicsome entertainment throughout the day. There a free kids' games all day long, face painting and fun arts and crafts and much more. New this year is a dunking tank - the coaches of the town's youth baseball and softball teams will sit in (what they hope will be) the hot seat.
           The splendid fountain and smaller drinking fountain that have adorned our common for more than a century have received major repairs and restoration. Be sure to admire the beautiful forms of "our ladies" arrayed and adorned just as they were when George Merritt Rice donated the town's centerpiece in 1885. Rest awhile on the new benches, donated by appreciative townspeople in memory of loved ones. Witness the colorful whirl of families enjoying a quintessential event in this very special place. Perhaps you should mark the date on your calendar right now. You won't want to miss it!"
---