Bacon Wrapped Asparagus

Bacon Wrapped Asparagus is a really tasty snack or a great outdoor treat straight from the Barbeque. We'll look at a few different ways to make them as easy and tasty as possible to put together:
The Basic Bacon Wrapped Asparagus

This photo the variation with a bit of blue cheese sprinkled on top.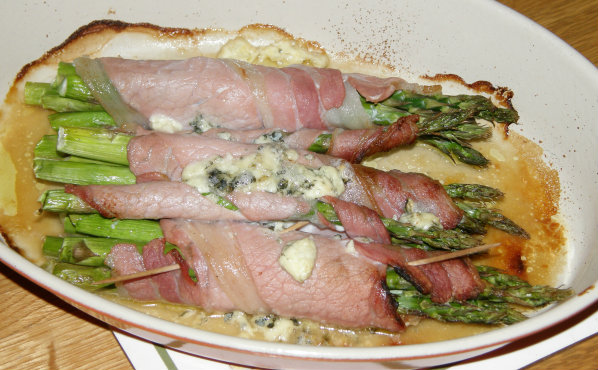 There are a few variations to the recipe but they are all pretty similar. Scroll on down for more ideas.

This recipe makes a great lunch time snack with a poached or fried egg and some crusty bread.


INGREDIENTS

1 or 2 rashers of bacon to every 4 or 5 spears of asparagus

Cocktail sticks

Olive Oil

Directions

pre-heat the oven to 200 Centigrade (180 for a fan oven like mine!)
Snap the ends off the asparagus (save the ends for making soup and pop them in the freezer if you are feeling thrifty)
Layout 1 or 2 side by side (I think 2 is best)rashers of bacon on a board
Take 4 or 5 asparagus stalks and place them in a bunch on the bacon at a slight angle
Start to roll the bacon around the asparagus and if you get the angle right they will cover most of the length of the asparagus stalks
Use the cocktail sticks to secure the bacon
Place in a shallow baking dish with a little olive oil brushed over the ends of asparagus that poke out
Bake in the oven for 10 minutes
Check to see how they are doing, you will probably want to leave them in for another 5 or ten minutes or finish them off under a grill to get a nice crispy bacon topping
Enjoy!

---




Variations on the Theme


That's the basic recipe now for the variations:

You could:

Use white asparagus if you could get your hands on some
Spread something on the bacon for a bit of extra flavour e.g.tomotoe puree with fresh chopped herbs (highly recommended)marmalade (yes i know you think that sounds weird but have you ever tried toast and marmalade with bacon on top? you need to!)your favourite brown sauce use your imagination.....

Cooking Time: 10-15 mins 
Prep Time:        5mins
Serves:              4

Where to Buy Asparagus and what to look for


Asparagus Season


Basic Preparation of Asparagus


Equipment for Cooking Asparagus

Sprinkle cheese on top after about 10 minutes,(I particularly like a bit of blue cheese on top)
Cut the bacon in half lengthwise and twist it around a single thick asparagus spear
Thread the rolled up parcels onto barbeque skewers and cut into two or three lengths to make kebab type rolls for the barbequeue
Serve with fried egg (really yummy!)
The list goes on as I think of more variations I'll come back and add to the list!......
If you have a great variation or a picture of your bacon wrapped asparagus to share please let me know via the contact page or the share a recipe page and we'll add your ideas here.
Other recipes that might take your fancy include:
Roasted Asparagus with Bacon and Goats Cheese
Grilled Asparagus with Stilton
Fancy Trying One of Our Favourite Recipes?

or visit our main
---