Asparagus in your Lunch Box
What a Treat!

Finding Asparagus in your lunch box is a great treat but if you don't have anyone to make a lunch box for you then putting it in your own is a must!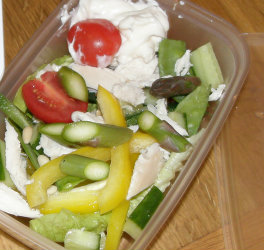 If you are making a lunch box for your children to take to school and you are winning the eating veg war then you could include a small container containing sticks of vegetables to nibble on with a dip to make them tastier. Go for a variety of colours to make them more attractive, I like to aim for at least three colours: Green = asparagus or cucumber or green peppper, Yellows / Oranges = carrot or yellow / orange pepper, Red = red pepper or .... red pepper!!!
When I'm organised enough to make myself a lunch box I like to put together a salad mixture of some sort. The key to a salad that doesn't leave you feeling like you are a rabbit on a diet of leaves and more leaves is variety and asparagus is one of those items that adds variety. Two or three spears chopped up raw in the lunch box is a great addition. Here are some of the ingredients I typically use in a lunch box salad:
All are raw unless stated otherwise:
2 – 3 asparagus spears chopped into short lengths
Half a sweet pepper , yellow, green. orange or red sliced into lengths
3 or 4 sugar snap peas chopped into pieces
2 dessert spoons of tinned sweetcorn
2 inches of cucumber chopped into chunks
2 or 3 cherry tomatoes cut I half or a large tomato cut into pieces
A scattering of pine nuts (expensive) or a few cashew nuts
A grating of parmesan cheese on top (not the pre-grated cheese which I think is horrible!)
2 or 3 slices of salami chopped into pieces
A hard boiled egg cut into chunks
Small sticks of carrot or better still baby carrot from the garden
Radish cut into pieces
I avoid spring onions from lunch boxes for work to prevent smelly breath!
A few lettuce leaves – all sorts of varieties
A few beans or pulses ( I'm not a mad "beans in salad" person myself but I know some people are)
If I know I can keep it cool enough a few pieces of ham or cooked bacon or cooked chicken or salmon (a great way to use up odds and ends so long as they have been kept well chilled)
No doubt you can come up with some of your own favourites. Just try to be sure to put a good variety in each box.
I put the box together then pop a small blob of mayonnaise in the corner which I find is less messy than a vinaigrette dressing for a lunch box.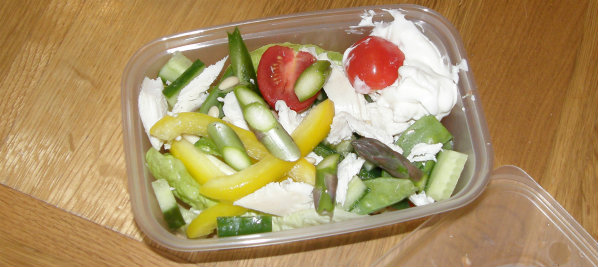 If I'm really lucky will find a special treat in the fridge left over from some other meals. The best things to find are:
Asparagus Frittata – Its even worth making this specially if I have time
Asparagus Quiche (or any other quiche come to that!)
A piece of pork pie
A Scotch Egg
A piece of cold pizza ideally with asparagus as one of the toppings
A few left over roasted or stir fried vegetables
A piece or special cheese - overripe Brie, Gooey Stilton, extra mature cheddar...

We hope this gives you some Inspiration for Asparagus in your lunch box!
Fancy Trying One of Our Favourite Recipes?

or visit our main
---