Looking for a fresh asparagus recipe?....

A fresh asparagus recipe is usually worth trying. Its very early March as we write this page and expectation is in the air as we see the race to bring the first asparagus of the season to our tables.
We thought that as the fresh asparagus starts to hit the shelves we should ask our favourite chefs for their ideas about how to best enjoy the new spears.
Asparagus en Croute - from "The Lemon Tree"

First to come up with the goods was Luke Fishpool of the Lemon Tree in Bishops Stortford. With al fresco dining when the weather is right and listings in the Michelin and Good Food guides his recipes must be worth a try!
His suggestion is for Asparagus en Croute as shown below.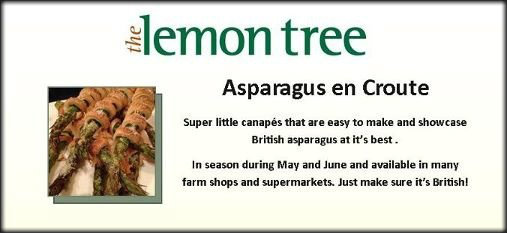 (editors note - Luke specifies British Asparagus which is perfect if you live in the UK. We are sure fresh Asparagus from any nations soil will be good just so long as it is as local and as fresh as possible!)

And now here is how you re-create this recipe yourself:

INGREDIENTS

Spears of medium sized fresh British Asparagus

Puff Pastry (ready rolled is fine and quick) (yes Luke said that not us!)

Freshly grated parmesan

Directions

Cut the patry into 1cm strips to resemble tagliatelle
Hold the asparagus stem at the base and snap the end off where it naturally breaks. Trim with a knife
Starting at the base of the stem, roll a strip of pastry in a spiral up the stem leaving just the tip of the aspragus exposed
Line a baking tray with parchment paper and place the spears on the tray not too close together
Sprinkle with grated parmesan and bake for 15mins at 170 degrees C until the pastry is risen and golden brown.

---

Luke advises that these are best eaten warm with a glass of Furleigh Estate Classic Cuvee 2009!

Our thanks to Luke for sharing this with us catch up with him on twitter @lemontree7lt. You will find more ways to cook asparagus with pastry here.

Cooking Time: 35mins  
Prep Time:       10mins
Serves:              4

Where to Buy Asparagus and what to look for


Asparagus Season


Basic Preparation of Asparagus


Equipment for Cooking Asparagus

---
Hollandaise Sauce by "Well Seasoned"

Three food obsessed entrepreneurs Patrick, Alex and Twigg from Well Seasoned rate hollandaise sauce as one of their favourite accompaniments to asparagus, they say – "simple, but very good." There are various hollandaise sauce recipes around but here is how they suggest you make it:
"Place two egg yolks in a small bowl, season and then whisk or blend them in a food processor. Next gently heat the juice of half a lemon and a tablespoon of white wine vinegar in a small saucepan until the mixture starts to bubble. Pour the hot lemon and vinegar into the eggs whilst further whisking or blending them. Now melt 100g of butter over a gentle heat. Once the butter has foamed, whisk/blend the butter into the eggs, lemon and vinegar mixture. The final product should be a rich buttery sauce perfect for dipping spears into."
The say its "Delicious" and we are sure they are right!
Keep coming back to see more Chefs share their favourite ways of cooking a  fresh asparagus recipe: Amongst other things I have been promised a recipe for an Asparagus cocktail!
Fancy Trying One of Our Favourite Recipes?

or visit our main
---