10 Things You Didn't Know About Asparagus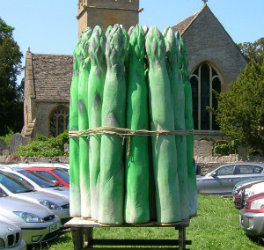 Do you think we know "10 things you didn't know about asparagus"? Test yourself and see. We challenge you to know all of the trivia we have collected over the years.
Here they are then 10 Things You Didn't Know About  Asparagus.......

1. World Record Asparagus Eating

The world record for eating Asparagus is held by Joey Chestnut. He took the record in April 2011 at the Stockton Asparagus Festival by eating 9lb 5.2oz of deep fried asparagus in 10 minutes. He won $1500 for his efforts.

Watching this video of high speed asparagus eating is not for those who prefer the finer things in life.
2. Asparagus can help with your Hangover

Apparently eating asparagus before you go out drinking can ease the after effects of your big night out. The evidence is typically scientific and not very practically based so don't blame us if it doesn't work!!!

3. Asparagus Dishes come in some fabulous shapes and sizes

Asparagus has often had a reputation for being rather exclusive and as a result it has been served on some pretty exclusive dinner ware. We love this French asparagus serving dish. Want to see more? You might also learn about the refined way to eat asparagus.

4. Asparagus makes your Wee Smell funny

So you've probably heard about asparagus and the effect it has on your wee's smell but did you know this?
There are four categories of people, which are you?
Your wee smells after you eat asparagus and you CAN smell it
Your wee smells after you eat asparagus but you CAN'T smell it
Your wee doesn't smell after you eat asparagus but you can smell other peoples wee after they have eaten asparagus
Your wee doesn't smell after you eat asparagus AND you can't smell it on other peoples wee....in fact you have no idea what all the fuss is about!!
Want to know Why? Its really a small price to pay for eating such a yummy veg though isn't it.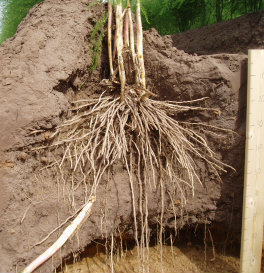 5. Asparagus roots grow up to 2m Long

Incredibly asparagus roots grow between 1 and 2m deep. As a result digging up and transplanting asparagus isn't really an option as you will never get all the roots and by cutting them the plants are prone to disease and weakness. Equally they are not over keen on being grown in pots as they can't go down as far as they would chose, however it does mean that asparagus is pretty good at finding enough moisture to survive in quite dry conditions.

6. Asparagus may be an Aphrodisiac

You might well have heard rumours about asparagus being an aphrodisiac, however did you know that someone called Quensel in 1809 said that asparagus had the opposite effect on women?
Wikipedia would have us believe that asparagus is celebrated in a 15th Century sex manual "The Perfumed Garden" and a relative of the garden asparagus "Asparagus Racemosus" has been found to have an aphrodisiac effect on rats.
Its all pretty light-hearted stuff but you may be interested to read a little more.

7. White Asparagus is just Green Asparagus grown in the Dark

Don't be fooled into thinking that the White Asparagus eaten on the continent and sold widely in jars is a separate variety of asparagus. It is actually just our much loved green asparagus grown without access to light. As it grows soil is piled up over it so that it never sees daylight until it is cut or alternatively it can be grown under dark poly tunnels that cut out the light. Either way our continental friends are madly in love with it and eat huge qualities when it is in season. You may also not know that it needs peeling before eating unlike our lovely tender green asparagus.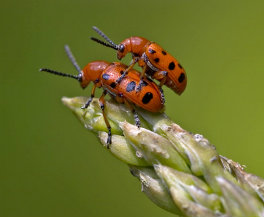 8. Asparagus has its very own brand of Beetles

Just like cabbages and carrots asparagus has its very own pests named after it. The thing about asparagus beetle is that they might look quite pretty but it is an unwelcome visitor is the asparagus garden. There are even two types, the common and the spotted. They love to eat the foliage and gnaw the bark of the growing asparagus fern, weakening the plants, so we don't love them.

8. Asparagus Shoots can Grow up to 6inches in one day

Asparagus loves a bit of sunshine and when the soil is warm in spring you could probably nearly watch them grow. Daily cutting is required at peak season to keep up with the growth of these succulent shoots.

10. Asparagus Arrived in the USA in the 17th Century

it seems likely that Dutch traders introduced asparagus to New York in the 17th century. A guy called Diederick Leertouwer may well have been responsible for introducing it to New England and they still hold an asparagus festival in his honour to this day.

Think You Know Something About Asparagus we Don't Know?

There's always more to learn - if you know something really obscure, interesting, cutting edge, or totally silly we'd love to hear from you.

---