Asparagus Soup Taste Tests - (the processed varieties!)
No doubt the major manufacturers do highly scientific asparagus soup taste testing. (I know how it works as I used to get involved in chocolate tasting when I worked at Cadbury's!) We, however, just took four different packet soups made them up for our lunch and tried them all several times.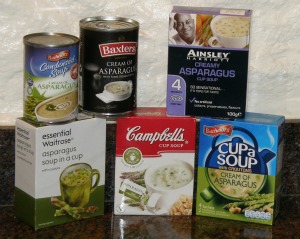 Don't even think of comparing these processed soups up against home made asparagus soups, it wouldn't even be like comparing apples and pears! However, if you are going to use these powder soups as a quick lunch or warming snack which should you go for?
All in all we agreed that they were better than we expected. I usually complain that processed soups are very salty but these were all not too bad. None of them were powdery (but i did stir them very well to try to be fair to them all) and they were all quite a nice consistency. Whether they tasted of asparagus is a bit more doubtful but they tasted like a reasonably pleasant hot soup drink!
The soups we tried and their declared nutritional information is shown in the table below.
Mike's first choice was the Campbell's which he thought was creamier than the others followed by the Waitrose with the Batchelor's and Ainslee Heriott's equal.
I thought the Batchelor's had the edge based on thickness and texture with the Waitrose close behind. Having said that I thought they were all pretty simliar.( Waitrose do a low calorie version of their's at the same price which we didn't try as they didn't have it at our local store).
Looking at the table below the Batchelor's and Waitrose soups seem to have it on a combination of price and taste whilst you are maybe paying over the odds for a low calorie version with Ainslee Heriott's name on the box!!!
We'll test the tinned soups shortly and add our reviews to this page.....

---
Home
›
Asparagus Facts
›
Soup Taste Test